How To Celebrate Greek Easter 2020 At Home
by XpatAthens
Tuesday, 14 April 2020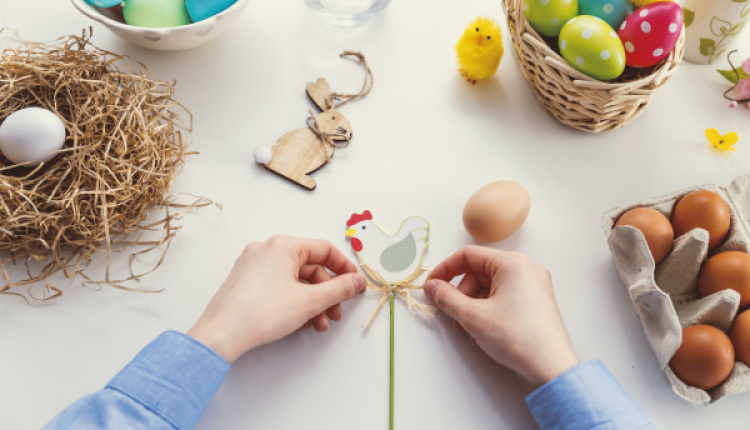 Easter is one of the most important Christian holidays and the
biggest religious holiday in Greece
; it is a time to celebrate faith, new life and family gatherings.
This year, however, things are going to be a little different, as social distancing measures prevent families from gathering around the table on Easter Sunday for lunch and attending church services. Yet, this, of course, doesn't mean Easter is canceled. It just means that our holiday routine needs some refreshing!
Our friends at
MILI LO Design & Event Planning
have put together these really great tips to help us make the most of our Greek Easter 2020 in isolation.
---
This article was originally published on MILI LO's blog
here
. Mili Lo is a boutique event design and planning company located in Athens. Emily and her team are exceptionally creative and make life's precious moments absolutely magical. Thank you for sharing this article with us and for brightening our Easter in Greece 2020!
---
1. Prepare & Share Traditional Recipes
Food is often the main focus of holiday festivities, especially in Greece, a country with a rich gastronomic tradition! From
tsoureki
, the traditional Easter bread, to
magiritsa soup
, and of course,
ovelias
, the Greek Easter tradition where a whole lamb is roasted on a spit; find recipes for your favorite Greek Easter holiday foods and spend some quality time in the kitchen with your closest ones. To make things more interesting, you can make it a family affair and have all your family members try creating the same dishes in their own kitchens!
2. Throw A Virtual Easter Egg Hunt


The egg hunt is one of the most popular Eastertide games and, although it's not a typical Greek tradition, it can be a reason for children to look forward to Easter and have fun even while they are stuck indoors! To host a virtual hunt, hide eggs around your house or yard in places that would be easy to see on FaceTime or Zoom and then invite the youngest members of your family to participate. When they find an egg, pick it up and award the child a point. At the end of the game, count each child's points and have their parents give them treats, one for each point they scored!


3. Tune In To Online Church Services


Many
churches are now taking their services online
so you can attend from the comfort of your home. See if your church organizes any special virtual Easter events and after the service set up a call to share the message of Easter with your loved ones!
4. Create Your Own Dye for Easter Eggs


In Greece,
dying red eggs
is a long-standing tradition that takes place each year on Holy Thursday. This year, however, try taking it one step further by decorating and designing colorful eggs with cool patterns - all on your own! Instead of running to the grocery store to buy a fancy dye kit, try creating your own with what you already have in your pantry and the help of your family. All you need is boiling water, eggs, vinegar, and food coloring. Let the Easter egg dyeing begin!
5. Make An Easter Basket


Design a colorful basket, fill it with all kinds of goodies, from chocolate bunnies to pastel-colored eggs, and then leave it on a neighbor's doorstep. This delicious gift will give a smile to anyone who receives it! After all, what greater way to fully embrace the Easter spirit than with random acts of kindness!


6. Get Creative With Sidewalk Chalk


Continue spreading the love by writing cheerful messages on the sidewalk to brighten your neighbors' day! Chances are your neighbors are feeling stressed out and cooped up these days and they could use a glimmer of hope and optimism. You can also draw some colorful Easter eggs or bunnies for them to find the next time they pass by.


7. Show Your Support To Healthcare Workers


In times like these, we shouldn't forget the doctors and nurses who are working through the holidays, risking their lives and sacrificing time with their families to care for patients. You can show your appreciation and gratitude with a small gesture such as tying a white ribbon somewhere in your front yard or sharing a thankful message on social media with the hashtag #HealthCareHeroes.

8. Have A Virtual Easter Dinner


While some families are awaiting Easter lunch with great anticipation to break up the monotony of their quarantine routine, others who are alone this year need to come up with ideas to bridge the distance. Luckily, technology makes staying connected easier. Even if you can't gather in person you can still celebrate and have a special dinner with your loved ones over Zoom, Facetime, or other video conferencing apps. Don't forget to include the elderly as they need to feel involved and loved more than anyone!


While no one could have imagined that Greek Easter 2020 would be celebrated indoors without traditional outdoor festivities and gatherings, with a little bit of creativity we can still find ways to fill our holiday with color and joy, honoring our favorite traditions, or even inventing new ones! A change in plans doesn't mean the deeper meaning of Easter has to change too.


Happy Easter from our homes to your homes! #StayHome #StayPositive #StaySafe