Tsoureki Recipe - Traditional Greek Easter Bread
by XpatAthens
Tuesday, 19 April 2022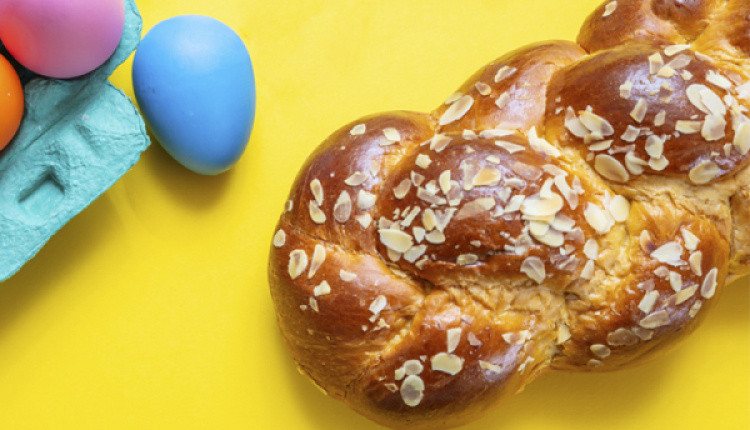 With a soft, fluffy, and buttery-brown crust, this is the most flavorful tsoureki recipe you will ever try! Greek Easter bread owes its rich flavor to mastic, mahleb, and orange zest that are used in most traditional tsoureki recipes. Tsoureki is traditionally served on Easter Sunday, but is also very popular throughout the year as a delicious midday snack, for breakfast, or with tea or coffee.
Here is one of our favorite tsoureki recipes:
Serves: Yield 2 loaves
Difficulty: Intermediate
Prep Time: 4 hours
Cooks in: 35 minutes

Ingredients
135g dairy butter

135g milk, at room temperature

200g sugar

4 medium eggs, at room temperature

870g bread flour

21g dry yeast

100g lukewarm water

the zest from 1 orange

3g ground mastic

4g ground mahleb

1 egg and 1 tbsp water, for glazing

almond slivers for garnishing
For the syrup

150g sugar (3.5 oz.)

150g water (3.5 oz.)
Cooking Method
Add the lukewarm water, a pinch of salt, and the yeast in a bowl and stir. Cover with cling film and set aside for 6-7 minutes until the yeast is activated and starts bubbling.


Use a pestle and mortar or blender to grind the mastic and mahleb with a little bit of sugar.


Add the butter, sugar, and milk to a saucepan and stir over very low heat until the butter has melted and the sugar is dissolved. The melted butter should be at the same temperature as your finger; if it feels too warm, leave it to cool for a few minutes and then check again.
To learn how to make this traditional Greek Easter bread, please visit:
MyGreekDish