3rd PAMEMMAZI Forum At The American College of Greece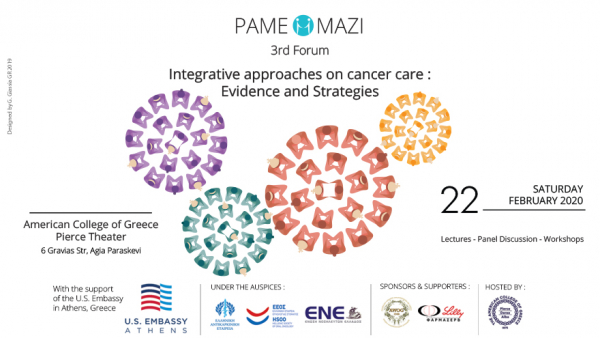 On February 22nd, 2020, at 10:00 a.m., the American College of Greece, Pierce Theater, will be hosting PAMEMMAZI's third forum entitled "Integrative Approaches on Cancer Care: Evidence and Strategies."

PAMEMMAZI was founded in 2017 for the psychosocial support of oncology patients and their families and to fight stigma through programs of art, programs for health and wellbeing, programs to encourage creativity and share information, through annual forums about integrative care, through participation in awareness-raising races with the team "Untouchables by Pamemmazi" and through publishing stories on our blog www.scarsandscarves.com

The aim of this year's forum is to highlight the importance of palliative care in the framework of embedded integrative care, the role of complementary therapy programs as well as the research that supports their use. We stress the powerful effect that psychology can have on psychosomatic health, with the therapeutic qualities of music, dance, and of art in general, as well as the importance of expression, communication, and personal strength and resilience in dealing with cancer, resulting in better results and better quality of life.

The forum is directed at health professionals, doctors, nurses, social workers, psychologists and the students of those fields, but also to the general public who are interested in approaching cancer in a holistic manner, or who are interested in matters of health generally.

The Program includes an open discussion amongst scientists, health professions and the audience as well as informative/interactive workshops with topics such as the therapeutic approach of music and tango, advice of dentists for good dental health from diagnoses to post-treatment, and the works of two non-profit organizations that also support cancer patients and their families, KEFI and Pnoi Agapis.

The first part of the Forum (10:15-12:30 and 13:00-14:30) will include presentations and round table discussions. The second part (14.30-16:30) will include 5 different workshops to address the variety of interests held by our audience.

In the reception area we have a) Art Exhibition that represents the work done by Eva Grigoriadou, Art Therapist, in the Art Therapy program offered by PAMEMMAZI at the G.O.H.K. hospital "Agioi Anargyroi" b) Therapeutic Photography exhibition, a program offered by PAMEMMAZI in collaboration with Eyes of Light and Dimitra Ermeidou and, c) Drawing exhibition by students from the program SMOKEFREEGREECE of the Institute of Public Health of the American College of Greece.

Participation in the forum and the workshops is free.
Register HERE!


---
---
EVENT INFO
When

:

22 Feb 2020

Time

:

10:00 - 10:00

Where

:

American College of Greece

Price

:

Free

Title:

3rd PAMEMMAZI Forum At The American College of Greece

Email:

info@pamemmazi.org

Website:

www.pamemmazi.org/en