The Greek Foustanella: From Military To Nation Symbol
by XpatAthens
Thursday, 04 February 2021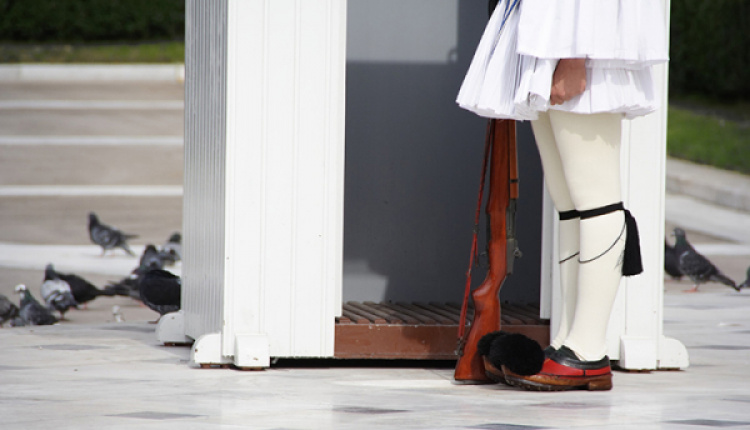 Worn by the emblematic Greek Evzones, the foustanella has come to be understood as a symbol of valiance, bravery and resistance.


The history of the skirt-like garment has been written by the klephts (the brigands of the mountains), and the armatoloi (irregular soldiers commissioned by the Ottomans to enforce the Sultan's authority), who later formed the nucleus of the Greek fighting forces during the War of Independence against the Turks. The garment was worn by the Greek soldiers of the 1st Regiment Greek Light Infantry in British service (1810-1812), by the soldiers (mostly from Mani or Roumeli) of the Light Infantry (1837-1838), by the Greek legion in the 1853-1856 Crimean War, by the Mylonas rifle-carrying Evzones (1874-1877), and by the Royal Guard detachment, who, as elements of the regular infantry divisions, fought in the First World War as well as the Asia Minor Campaign and the Greco-Italian War.
From the Greek War of Independence to the war against the Italians and right up to the present, the Evzone uniform has always been a point of reference. It has adapted to geography and weather conditions. "The full-pleated all-white foustanella meets ancient Greek heritage," Haitoglou says.
As folk dancers and some schoolchildren prepare their foustanellas, scarlet fez caps, and leather tsarouchia shoes ahead of the
March 25 Independence Day
parades, the elite ceremonial
Evzones
unit is the subject of a special tribute in Athens. A total of 40 colored drawings of the Evzone uniform by painter and costume designer Yiannis Mylonas illustrate the historical evolution of what could be described as the quintessential Greek national dress from 1821 to this day, the different variations, and the conditions under which these were designed.
Prepared in cooperation with Thessaloniki's Museum of the Macedonian Struggle, the exhibition is curated by Vassilis Nikoltsios and Stavroula Mavrogeni. The works belong to the private collection of Alexandros and Lena Haitoglou.
To read this article in full, please visit:
eKathimerini.com