Grand Festive Season At Hotels Grande Bretagne & King George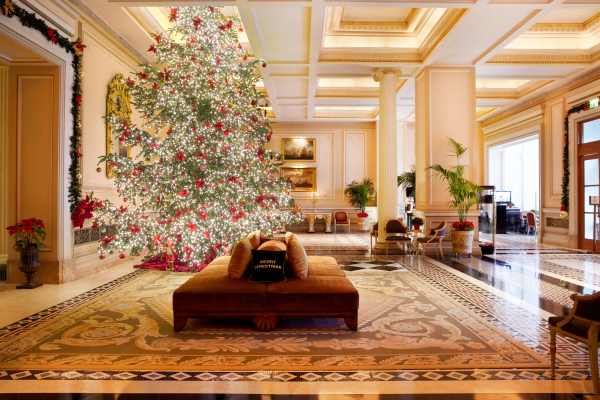 Υet another year, Christmas begins at the corner of the most attractive and fascinating square in Athens. Hotels Grande Bretagne & King George invite their guests to live, spread the Christmas spirit and enjoy countless experiences with their loved ones!
Proud nutcrackers stand at attention and welcome each guest as they arrive and the tall, impressive Christmas tree stands lit in our magnificent lobby, glittering, elegant and decorated with great care and enthusiasm. Timeless crystal ornaments in various shapes adorn the space giving a magical ambiance.
CULINARY EXPERIENCES:


Winter Garden City Lounge

It's the most wonderful time of the year and the iconic
Winter Garden
is graciously welcoming the festive season with the Christmas Flavors buffet stylishly prepared by the talented pastry team of the historic hotel. Visit the festively decorated Grand Dame of Athens and enjoy your favorite beverage with the most delightful Christmas desserts!
Daily | 16:00 – 22:00
Christmas Afternoon Tea
The renowned Afternoon Tea, an exclusive experience that holds its own part of history in the hotel's journey through time, dresses up its festive attire and welcomes you to a journey of flavors and aromas in the glittering atmosphere of the Winter Garden City Lounge. The traditionally served Christmas Afternoon Tea of the Hotel Grande Bretagne, inspired and curated by Executive Chef Asterios Koustoudis and Pastry Chef Alexandros Koufas is enhanced with a rich variety of festive tea flavors. The all-time classic, freshly baked scones with Corinthian raisins, clotted cream and handmade seasonal jams are not missing from the menu.
Order the
Tea Me Away
daily between 11:00 a.m. to 7:00 p.m. on +30 210 3330750 and it will be ready for you to pick up in 15 minutes! Enjoy your exclusive Afternoon Tea and allow us to bring some of the hotel's essence at home!
Served Daily | 12:00 – 20:00
Weekends at Winter Garden
Winter Garden City Lounge of Hotel Grande Bretagne brings its grandiose brunch experience to the heart of the city. Weekends at Winter Garden, curated by Executive Chef Asterios Koustoudis, returns featuring a renewed menu with fresh baked goods created daily basis in the new in-house bakery of the historic hotel.


The journey begins with a lavish breadbasket including handmade sourdough creations inspired by talented Pastry Chef Alexandros Koufas. Freshly baked butter and chocolate croissants, brioche with oriental spices and fermented baguettini make a perfect match with the local fresh butter, homemade jams, vanilla and choco-hazelnut praline flavored creams as well as the Greek strained yogurt. These elegant delicacies excellently accompany a cup of coffee or tea or a glass of fresh juice.


The experience is followed by an exquisite selection of special and signature dishes uniquely prepared by the hotel's culinary team; starring smoked and marinated salmon with caviar and quail egg, spinach tart with gorgonzola and forest mushrooms, omelette with aged kasseri cheese, Florina pepper and prosciutto, homemade fresh pasta filled with veal, truffle sauce and bechamel with goat cheese as well as the all time favourite organic farm-fresh eggs 'benedict' with lobster, asparagus and 'hollandaise' sauce.


A glass of French champagne under the soft sounds of Winter Garden's warm embrace crafts the finest harmony while the masterpiece dessert creations of the menu seal the experience in the most delightful way.


Sharing moments of relaxation and warm gatherings with friends and family has found refuge in Weekends at Winter Garden.
SATURDAY & SUNDAY | 11.00-14.00
Music nights at the Winter Garden
Every Wednesday and Thursday, visit the iconic Winter Garden and allow us to welcome you in the finest Jazz and Opera atmosphere.


-Jazzy Wednesdays every Wednesday | 19.30-22.30
Every Wednesday a talented trio of Piano, Double bass and Saxophone and introduces you to the fine tones of the most renowned music genre.
-Opera Nights every Thursday | 19:30-22:30


The elegant ambiance of the Winter Garden City Lounge embraces the fine sounds of Opera and welcomes some of its most renowned repertoires.
GB ROOF GARDEN RESTAURANT – TUDOR HALL RESTAURANT
During festive days, our Executive Chef Asterios Koustoudis and Chefs de Cuisine Nikos Liokas and Nikos Leivadias, will once more enchant you with special menus created for you to experience unique culinary tastes with friends and family under the glittering view of Athens. Festive music will add a final touch to the celebratory atmosphere of every event. For more information on our festive celebrations at the
GB Roof Garden
and
Tudor Hall
, please see here our
Christmas Brochure 2022

GIFT IDEAS:
GB CORNER GIFTS & FLAVORS
Enjoy endless gift ideas at the most renowned 'corner of Athens', the
GB Corner Gifts & Flavors
concept store of the Hotel Grande Bretagne.
Explore the special gift compositions wrapped in the most elegant hamper boxes and do not forget to take a sweet surprise home; a dreamy homemade panettone created by the new Pastry Chef Alexandros Koufas, prepared with apple-sugar sourdough, unusual chocolate flavors, citrus zest, tonka and black cardamom.
For the holiday season, exceptional Christmas logs by award-winning Pastry Chef Arnaud Larher will impress your friends and guests. You will find them at GB Corner's dessert display in various flavors for all tastes including the Buche Babylone with yogurt and red fruit, the Buche Toulouse Lautrec with four chocolate textures, the Saint Honore with caramelised choux pastry, vanilla and praline, the Pomme de Pin with dark and milk chocolate and caramelized puffed rice, the Pavlova Citron with lemon cream and compote and the Buche Regalade with three chestnut textures and rhum.
KG PERFUMERY
The elegant KG PERFUMERY at the King George Hotel offers a premium selection of high-end perfumes, ready to be wrapped and delivered to your loved ones.
Look for the two new exciting French luxury fragrance selections of Le Jardin Retrouve and Parfum d' Empire next to the existing fine perfume collection including creations of Etat Libre d'Orange, Storie Veneziane and Manos Gerakinis.
For table reservations please contact our Xmas Desk on 2103330880
EVENT INFO
When

:

12 Dec 2022 - 06 Jan 2023

Where

:

Hotels Grande Bretagne & King George

Title:

Grand Festive Season At Hotels Grande Bretagne & King George