Remix Your Holidays: Hard Rock Cafe Athens Invites You To Enjoy Breakfast With Santa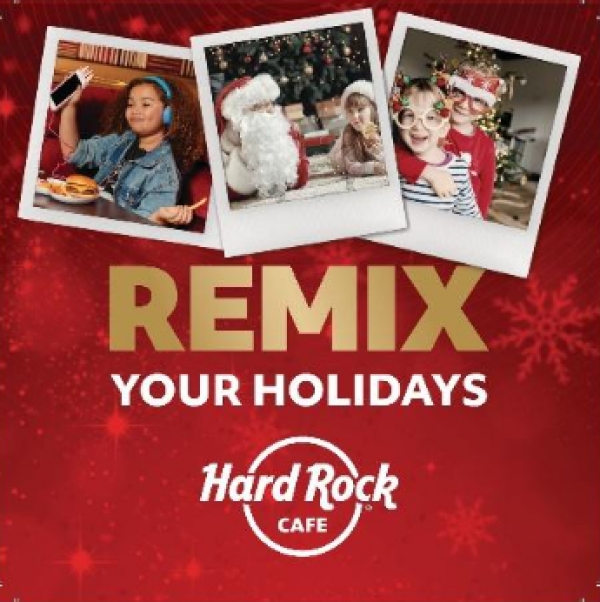 Are you ready to rock and roll with Santa?

Then come celebrate this special holiday season together like real rock stars! Christmas is just around the corner, and that means it's time again for Santa Claus and his elves to welcome young and adults this year for the long-awaited Breakfast with Santa, so they can experience the ultimate Christmas atmosphere along with many other surprises!

For two unique Sundays, on December 11 & 18, the Hard Rock Cafe will be waiting for its little friends and their whole family for a special Christmas experience from 12.00 pm to 4.00 pm, for a unique festive Breakfast With Santa. If the little rock stars are on Santa's list this year they will have the opportunity to choose from a range of activities such as taking souvenir photos with Santa, but also exploring their creative potential with activities such as face painting, and decorating cookies. The entrance fee for each child will be €15 including the children's meal.

Also on the second Sunday (December 18), the writer Efi Argyropoulou will be there from 14.00 pm to 15.00 pm. Our little friends will get into the Christmas spirit for good, as they will have the opportunity to present and tell them her new fairy tale, "I want to sleep forever in each other's arms", which is published by Hibiscus Publications. At the same time, adults will be able to enjoy a variety of tastes from the delicious comfort food dishes offered by the Hard Rock Cafe menu.





EVENT INFO
When

:

11 Dec 2022 - 18 Dec 2022

Where

:

Adrianou 52, Athens, Greece

Price

:

15€

Title:

Remix Your Holidays: Hard Rock Cafe Athens Invites You To Enjoy Breakfast With Santa