Not Your Usual Pop Up Market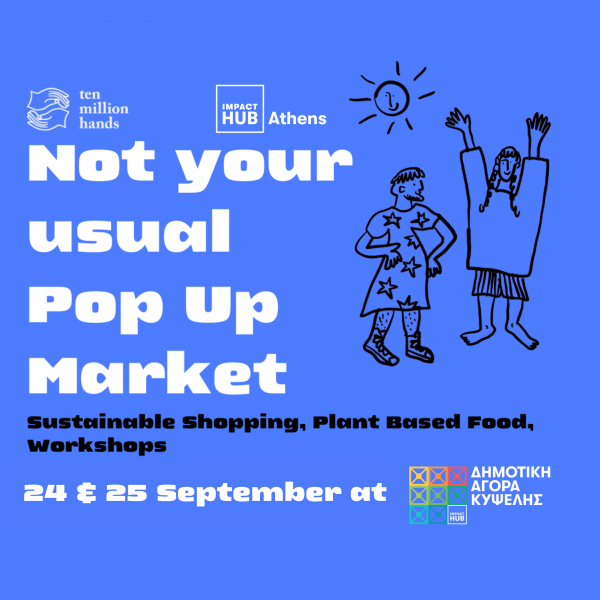 Have you ever thought about how much power you have in your hands? Every day you can make a difference by choosing to consume products that contribute to a more ethical, fairer, more sustainable world. This is the driving force behind
Ten Μillion Ηands
project, created by
Impact Hub Athens
with the support of
Helidoni Foundation
. The first organization in Greece, which through continuous research and interaction with the public, intends to highlight the power of collective effort with small changes in our daily habits, towards a more sustainable future.
The project is launched through a – not ordinary – Pop up Market! On the last weekend of September, on the 24th & 25th, the
Municipal Market of Kypseli
opens its doors to the public and welcomes sustainable brands from every part of Greece.
Visitors will have the opportunity to choose between a wide range of home items, such as The Nook Project's furniture, Margarita Gallery's artworks, but also daily living and decorative objects as the second hand plants of Papigion Project, the rich vintage toys collection of Replay Toys, or the trendy eco-friendly and/or biodegradable plastic-free items of Plastikourgeio and Boobam. They will also be able to find selected nutrition products, such as organic foods from Synallois organization, agricultural products, pulses, flour and wine directly from Sandalis producer or fresh fruits and vegetables from Mpostani, certified organic, sweet but sugarless, alcoholic drinks from Aithra Spirits, and of course all the products of Wise Greece, which by supporting and selling products of small Greek producers, buys and donates food to children, homeless families and elderly people who are on the verge of poverty.


Of course, fashion could not be missing from the Ten Million Hands Market, with the vintage clothing collections of The Hazel Ray Vintage, and Anthologie Vintage, the size-inclusive bodysuits of Femad, the ecological streetwear of Blank Studio, but also the Swaplanet's kids clothing. Ankaa Project and Life With You, will be there with their amazing accessories, and the girls of Apiliotis with their handmade jewellery. Cosmetics and personal care items will be provided by the local Kypseli's BeautyBar, while at the same time the public will be able to be informed about the electric mobility services offered by Kineo, but also to recycle for a good cause their old laptops, peripherals and computer components at Epanekkinisis.

Interactive and educational workshops for the whole family will be running concurrently on both days of the event.
The detailed schedule of the workshops:
24|9 Saturday
12.00 – 13.00 Swaplanet - Creative game for children on the concept of sustainability
14.00 – 17.00 Epanekkinisis - Repair Cafe
17.00 – 19.00 A Shiny Day - FASHION UPCYCLING WORKSHOP (iron pattern & embroidery, painting, processing with sewing machine)
25|9 Sunday
17.00 – 18.00 Restia project – Filter presentation
17.00 – 19.00 A Shiny Day - FASHION UPCYCLING WORKSHOP (iron pattern & embroidery, painting, processing with sewing machine)
At the presentation of the event, Alex Kavdas!
Let's discover together how much power ten million pairs of hands have!
Saturday 24 & Sunday 25 of September 12:00 - 20:00, Kypseli Municipal Market, Fokionos Negri 42, Entrance Free
Ten Million Hands acts as a platform that brings together all companies that produce sustainable and ethical products and services, offering consumers immediate, quick and easy information, ideas and advice for a more ethical and sustainable lifestyle. A way of life towards a better and more humane world for everyone, environment, animals and people.
EVENT INFO
When

:

24 Sep 2022 - 25 Sep 2022

Where

:

Fokionos Negri 42

Price

:

Free

Title:

Not Your Usual Pop Up Market 

Website:

agorakypselis.gr/