Athens Meetings 2022: Who Is Planning Athens?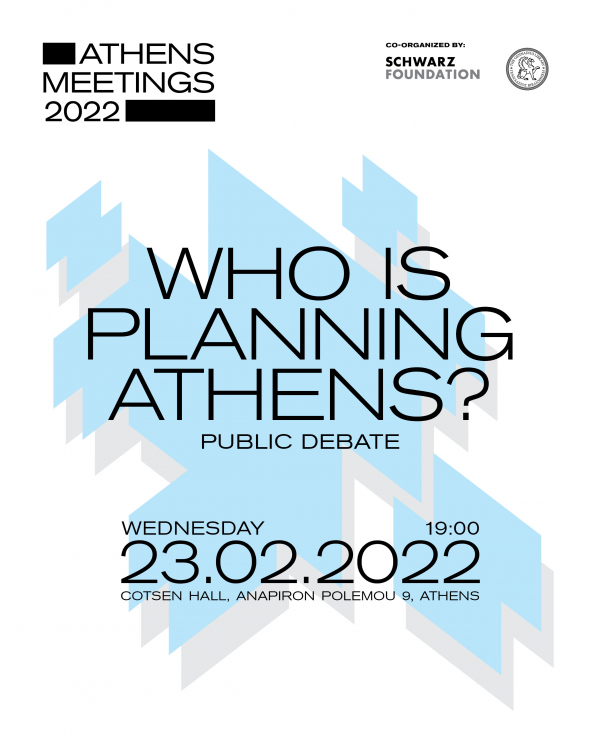 Is Athens planned? What is being planned in Athens? What are the priorities? What are the explicit goals? Is there a "vision for Athens" today?

Co-organized by the Schwarz Foundation and the Gennadius Library of the American School of Classical Studies at Athens.

This is the first in a series of events on the city of Athens, featuring Greek and foreign experts. This forum fosters the exchange of views aiming to inform but also reflect on what is currently planned and implemented in Athens. Is there a clear set of priorities and a strategy for the urban form, organization, and program for the city of Athens over the next 10-20 years? Is it related to the most recent Athens Regulatory Plan, and is the plan itself being refined by individual studies, in line with all emerging data? Finally, to ask a question that has already been raised multiple times: is there a coherent concept, a "vision for Athens" as an urban and economic entity/capital of the South-Eastern Mediterranean?

Today, Athens features limited green spaces and low building density. The city is characterized by urban sprawl, while the Regulatory Plan and the most authoritative theoretical approaches for European cities adopt the idea of the compact city. The use of private cars is high and the development of the subway network is still limited. The 2004 Olympic Games upgraded the urban environment, especially the transport network. However, the decade-long economic crisis starting in 2010 has restrained economic growth and exacerbated problems of urban development and social cohesion. Other issues, such as the redevelopment of Athens' downtown, the renewal of building stock, the management and new uses of the city's seafront area, and the creation of the "new city" of Elliniko and its relationship with the existing urban system, can be crucial to the future of the urban complex.

Athens Meetings 2022 take place during a period of significant changes and transformations and seek to encourage public discourse and debate about the management of the complex challenges of the city of Athens. The ultimate goal cannot be anything other than the improvement of the quality of daily life and the well-being of the residents through a healthy, creative and sustainable urban environment.


The discussion will be held in Greek with simultaneous interpretation in English.
Free admission with priority vouchers, available at the venue 1 hour before the event.
The public can enter the auditorium by presenting a valid COVID vaccination or recovery certificate (valid for six months).
The discussion will be broadcasted live on Youtube (
Watch in Greek
,
Watch in English
) and
Facebook
.
EVENT INFO
When

:

23 Feb 2022

Time

:

19:00 - 19:00

Where

:

Cotsen Hall - 9, Anapiron Polemou St., Athens

Price

:

Free

Title:

Athens Meetings 2022: Who Is Planning Athens?