Get 25% OFF At The Upcoming 'Athens English Comedy Club' Show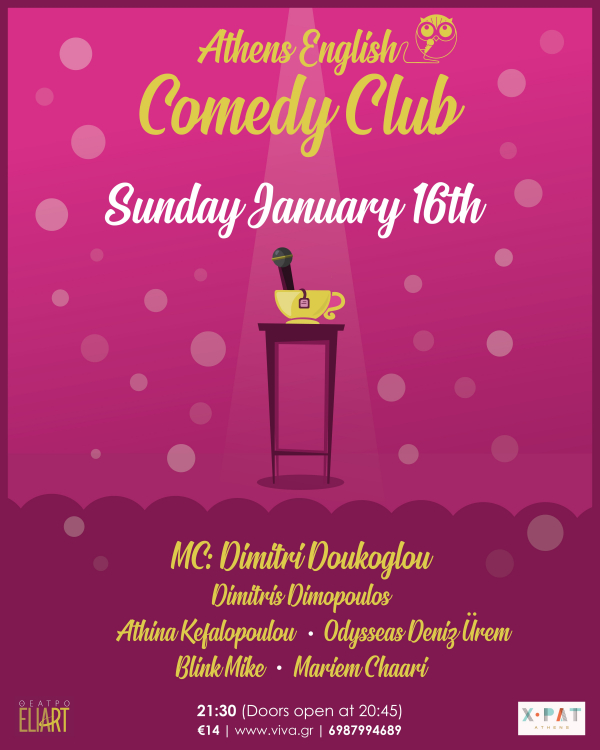 Founded in 2019, the Athens English Comedy Club is the first, and only, purely English comedy club in Greece!
Is the Athens comedy scene "all Greek" to you? Are you on the lookout for English language events which do not require you to read surtitles? Do you want to try your hand at stand up in English? We are here for YOU!


The Athens English Comedy Club brings you local and international comedians, right in the heart of Athens.
---
ALL XPATATHENS READERS RECEIVE 25% OFF
Using this code when booking tickets: XPAT22
Buy your tickets HERE!

---
Sunday January 16th - LINEUP SHOW :


MC: Dimitri Doukoglou
Dimitris Dimopoulos
Odysseas Deniz Urem
Blink Mike
Athina Kefalopoulou
Mariem Chaari
Date: Sunday 16th January
Time: 21:30pm (Doors open 20.45pm)
Tickets: 14 euros
Duration: 70 mins

About the comedians:

Dimitri Doukoglou is a Greek-Canadian comedian and illustrator based in Athens. He has been performing stand-up professionally since 2007. He has co-produced and hosted the humorous D&D web series 'Once Upon a Dice' (Μια Ζαριά κι Έναν Καιρό). He is also a science communicator and has produced and hosted several live science comedy shows, as well as the YouTube series 'Sex with Doukoglou' which explores human sexuality. He often forgets to eat.


Dimitris Dimopoulos is a comedian, librettist, director and translator. He has been performing stand-up comedy since 1996 from "Comedy Nights", Greece's first comedy-club, and has since presented three solo shows including "Kafrokrema" which is currently running. He has written librettos for the highly satirical operas "Twilight of the Debts", "AirRossini", and "Yasou Aida!". His passion for comedy and musical theatre culminated in the creation of the show "Stand-Up Symphony" in cooperation with the Thessaloniki State Symphony Orchestra.


Blink Mike has been performing stand-up since 2013 and stands out for his creative and sharp jokes. In 2013 and 2014 he took part in the Stand Up Comedy Festival competition where he won 2nd and 1st place respectively, while in 2018 he made it to the final of the nationally aired TV program "Greece Has Got Talent". His first solo show "Technically Forbidden" completed its first country-wide tour this year.


Odysseas Deniz Ürem is a stand-up comedian based in Athens, Greece and he performs regularly in theaters and comedy clubs in Greece such as the Athens English Comedy Club, Mic Drop Comedy Club and Losantzele Comedy Club. He performs in Greek and in English, his act revolves around subjects such as death, sex, family, racism, religion and among others it also consists of many surrealistic takes on every day life.


Athina Kefalopoulou, a Greek raised in Russia and Norway, is an actress, arts producer, and sociologist. She delved into performing stand-up comedy in 2019, taking part in the science communication show 'Science+Comedy', while she has taken part in numerous productions in Greece and the UK including within the Edinburgh Fringe Festival. Athina is the founder of the Athens English Comedy Club.


Mariem Chaari has the kind of life that qualifies her to be a comedian. Or a serial killer. Never short of content, she found herself one day on the stage of Athens Comedy Club making jokes. Since that day, she realized that making people laugh is the cheapest form of therapy. And strives for more. She likes to explore subjects that have to do with body image, sexism, and her own special way of seeing things (you don't say). On the side she's a successful single mother of two ginger cats, a foodie, and an Artist.


* * * * * * * * * * * * * * * * * * * * * * * * * * * * * *
We also offer 3 free tickets per show to persons with disabilities or unemployed persons (phone reservation required, and the relevant card/proof will be checked at the box office).
The theatre is wheelchair accessible.
Upon entry you will need to provide a vaccination certificate or a valid proof of recovery/antigen test.
---
ALL XPATATHENS READERS RECEIVE 25% OFF
Fill in the booking code: XPAT22
Buy your tickets HERE!
---
EVENT INFO
When

:

16 Jan 2022

Time

:

21:30 - 21:30

Where

:

ELIART Theater - Konstantinoupoleos 127

Price

:

14€

Title:

Get 25% OFF At The Upcoming 'Athens English Comedy Club' Show

Contact Number:

6987994689