Τhe Meet Market | 10 Days Of Christmas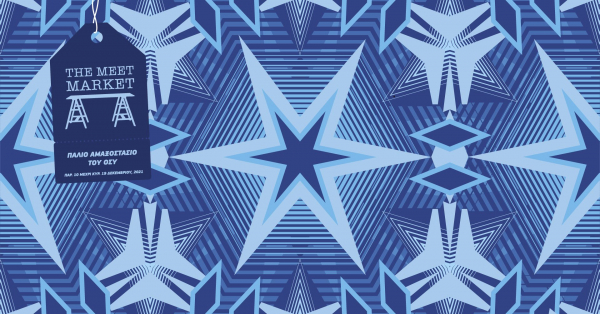 The holiday season is upon us, and considering all that we've been through over the past 2 years, and to make up for 2020's lack of festivities, we wanted to do something extra special (and extra Covid safe) this year. And so this December, The Meet Market proudly presents our biggest event to date: 10 days of Christmas at the Palio Amaxostatio OSY.

Come join us for holiday festivities and merry market celebrations as we head for the first time to this super central venue in Gazi, and fill it with 150+ stalls of beautiful products made & sourced with love from designers, artists, producers and selectors from all over Greece.


And because we couldn't fit all these talented makers in one event, this year's Christmas Meet Market is essentially 2 events in one. From Friday 10 – Tuesday 14, we will be featuring our first round of participating brands and exquisite products, and then switching it up with an new artisan lineup from from Wednesday 15 – Sunday 19. You'll want to visit us twice to witness the fitness of all these makers, including plenty who will be participating for the first time.


We also be featuring our usual non-stop dj sets from start till finish each and every day, interactive games for all our little friends, Christmas cocktails & Glühwein, street food, gift cards, free prizes, super duper Yultide vibes and a whole lot more!

Opening Hours: (Weekdays 18:00 – 22:00 & Weekends 12:00 – 22:00)
Friday 10/12 from 18:00 – 22:00
Saturday 11/12 & 12/12 from 12:00 – 22:00
Monday 13/12 – Friday 17/12 from 18:00 – 22:00
Saturday 18/12 & Sunday 19/12 from 12:00 – 22:00


The Meet Market: A monthly celebration of the entrepreneurial spirit… A nomadic market place of local goods, fresh ideas and friendly folk. An audio-visual jigsaw of handmade & independently designed clothes, accessories, art, objects, organic body products, home ware, tasty food, vintage & retro collectables, records, interactive games, free prizes, dj sets and good vibes!
EVENT INFO
When

:

10 Dec 2021 - 19 Dec 2021

Where

:

Palio Amaxostasio O.SY.

Title:

Τhe Meet Market | 10 Days Of Christmas

Email:

info.meetmarket@gmail.com

Contact Number:

(+30) 210 36 24 707