Athens Science Virtual Festival 2021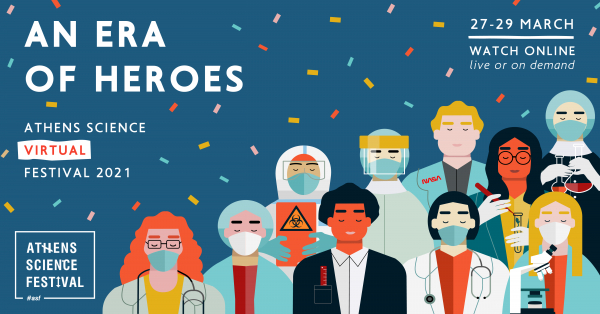 An Era Of Heroes

3 days of science, technology and innovation | 60 virtual activities sessions | 50
esteemed speakers from 8 countries | 3 Nobelists | 100 experiment demonstrations |
celebrity science | chemistry shows | documentaries | free parallel activities for all ages


In times of hardship, heroes emerge! Athens Science Festival comes back with a new, digital format to introduce us to the "Era of heroes"! From March 27 to March 29, 2021, the largest science festival in the country will be back, online and in live broadcast, from the Technopolis City of Athens, to celebrate the latest developments in the fields of Science, Technology, and Innovation but also shine a light to the relationship between Art and Science.

The pandemic and its devastating effects on the entire planet bring to the forefront a new order of heroes, who stem primarily from the field of science! Their superpowers? Their unparalleled will to offer and their sense of duty towards their fellow humans, fueling them to fight every day in order to achieve the impossible; expand the boundaries of human knowledge, and provide viable solutions. Since not all heroes wear capes, Athens Science Festival 2021 will honor scientists of all fields!

Through a series of exciting live talks, workshops, experimental demonstrations, virtual exhibitions and other innovative digital activities, attendees will have the opportunity to get indroduced to some of the most distinguished scientists in the world. In this year's Festival, everyone's participation will be dynamic. Internet visitors, instead of being mere spectators of the programmed activities, will have the opportunity to participate online, thus turning the Festival into a digital, multidimensional scientific event!



---
XpatAthens is proud to be a Media Sponsor of Athens Science Festival

---