Christmas Bazaars In Athens 2018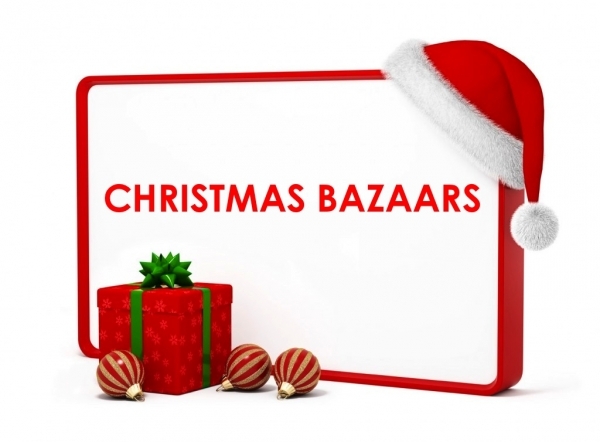 With the holidays just around the corner, now begins the wonderful season of Christmas bazaars and festivals!


We've created a single article so that you have one stop for all of the bazaars happening in Athens this season. If you know of a bazaar and it's not below, send us an email with detailed information at
ideas@xpatathens.com
.


Are you organizing a holiday or new year event and want to let everyone know about it? Create an
XpatAthens Profile
and upload your event today!
---
ACS Christmas Bazaaar

When: December 1st, 2018
Time: 12:00 - 16:00
Where: ACS Campus - 129 Aghias Paraskevis Ave. & Kazantzaki Street, Halandri
Price: Free
Email:pasanthamdalla@gmail.com

Description:
The traditional ACS Athens PTO Holiday Bazaar, a major fundraising event, is just around the corner. A great way to get into the Holiday spirit, buy gifts for your loved ones, enjoy international food, sweets and coffee, mingle with parents, staff and faculty or participate in the raffle while children enjoy the various games and activities for all ages. Entrance if free! Bring your family and friends along!
Lend a Hand
The Holiday Bazaar is a an event that needs all of us to succeed! Please volunteer and lend us a hand, it's a great way to get involved and have fun. It also sets an example for our children and makes them feel proud of their parent!

You may sign up here
Raffle
A favourite attraction of the event with various beautiful prizes for all tastes to be won, donated by our generous community and school friendly businesses. The grand prize this year is a cruise in Bali for two persons!!
If you wish to donate gifts to the raffle, there's still time; please contact Renia Tolka - Kamari at reniatolka@gmail.com.
Marines toy drive
We are supporting Greek charity organisations with the help of US Marines Corps who will join our celebrations to collect toys and pose for a picture with the children. New and unwrapped toys are welcome but you can also buy toys at the Marines corner and donate them back. What better way to teach our children the spirit of giving?
---
Nine Lives Greece - Christmas Bazaar

When: December 2nd, 2018
Time: 10:00 - 15:00
Where: Diotima Hall, Empedokleous 26 and Proklou Street, Panagrati
Price: Free
Email: ninelivesgreece@gmail.com

Description:
Santa Paws is coming to town: Come and do your Christmas shopping and get into the holiday spirit at the
Nine Lives Christmas bazaar
!
Browse the selections of new and nearly new goodies, to find purrfect Christmas gifts, and enjoy a delicious selection of homebaked cakes and cookies as well as scrumptious quiches and seasonal fare by the excellent La Chocolatiere caterers!
Books/CDs
Clothes
Fashion accessories
Jewellery
Household ornaments
Homemade cakes and pies, sweets & savoury treats kindly offered by La Chocolatiere
Coffee/tea/soft drinks
Nine Lives merchandise, including 2019 Calendars!
All proceeds directly benefit stray cats in Athens through food & vet care.
Donations of cat-food are welcomed with open paws!
Stay tuned for more!