YES FORUM: Sum-Up Open E-dialogue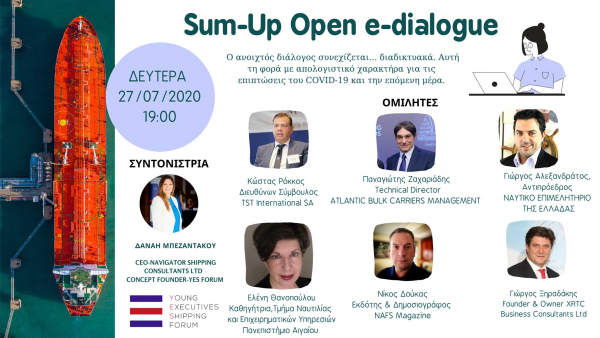 Yes Forum invites you on Monday, July 27, at 19:00 to take part in the sum-up open e-dialogue. The dialogues will commence again in September 2020.

Over the last months, there have been many dialogues and discussions regarding COVID-19 and its effects on entrepreneurship and the shipping industry as well as business in general and the way we work. At the same time, experts and business people have shared their views and made predictions about the future.
Τhe aim of this dialogue is to sum-up everything that has been discussed before, including the before-mentioned topics, allowing the audience to ask questions and engage in a fruitful conversation with shipping executives.

The speakers who will take part in the dialogue are:

-Giwrgos Alexandratos, Vice President, Marine Chamber Of Greece
-Kostas Rokkos, CEO, TST International SA.
-Nikos Doukas, Publisher and Journalist, NAFS Magazine
-Eleni Thanopoulou, Professor, University of the Aegean School of Administration Sciences Department of Maritime and Business Services
-Panagiotis Zahariadis, Technical Director, Atlantic Bulk Carriers Management Ltd.
-Giorgos Xiradakis, Founder & Owner XRTC Business Consultants Ltd

Moderator of the discussion will be: Danae Bezantakou, Concept Founder – YES FORUM & CEO – NAVIGATOR SHIPPING CONSULTANTS
EVENT INFO
When

:

27 Jul 2020 - 27 Jul 2020

Time

:

19:00 - 20:00

Where

:

Online

Title:

YES FORUM: Sum-Up Open E-dialogue

Email:

info@yes-forum.com

Contact Number:

+30 2106234000

Website:

yes-forum.com/