INNOVATHENS Webinar ~ How The NLP Technology Makes Our Lives Easier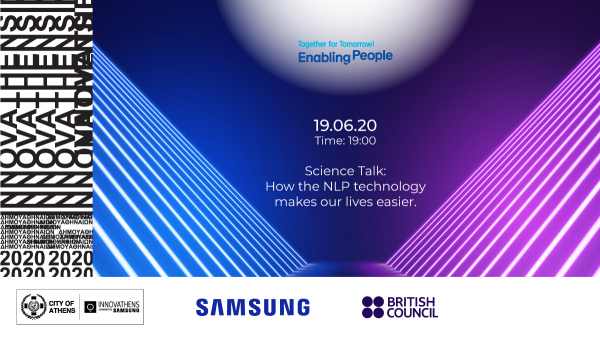 New Experiences Using Natural Language Processing In Artificial Intelligence
Samsung Electronics Hellas, British Council, and INNOVATHENS Powered by Samsung organize the fascinating webinar "New Experiences using Natural Language Processing in Artificial Intelligence" on Friday, 19 June 2020, at 19.00. The webinar will be live-streamed through the British Council's and INNOVATHENS' Facebook pages.
Natural Language Processing has been the subject of intensive research and an object of high hopes for decades. Yet, most of us still do not see any spectacular tangible results like eloquent androids or omnipotent AI present in popular Hollywood movies. Still, many companies advertise their AI systems as truly intelligent.


What is the truth? Has anything changed in the NLP area recently? To what extent do we actually use NLP in our life and what exactly is it? Do computers really understand human language? What does "understanding human language" actually mean and what are its potential implications? Finally, what can we expect from the NLP technologies in the close future, and should we be afraid of it? Dr. Lukasz Slabinski will try to answer these questions from the perspective of Samsung Electronics, a company that is one of the largest producers of intelligent consumer electronics. Mr. Kostas Karpouzis will be the moderator of the webinar.


Participation is free.


Speaker's Profile


Dr. Lukasz Slabinski is the Head of the Artificial Intelligence Department at Samsung R&D Institute in Poland. He and his team work in various AI areas like NLP, Data Analytics, and Computer Vision to bring new AI-powered functionalities to Samsung's global customers. Before joining Samsung, Dr. Slabinski worked as a scientist in research institutes, as a university assistant professor, and as an entrepreneur in his own start-up company – always exploring how AI can aid people in their lives.


Moderator's Profile


Kostas Karpouzis is currently an Associate Researcher at the Institute of Communication and Computer Systems (ICCS) of the National Technical University of Athens (NTUA) in Greece. His research interests lie in the areas of human-computer interaction, emotion understanding (Ph.D. thesis in Greek [PDF]), affective and natural interaction, serious games, and games based assessment and learning. Since 1998 he has participated in 15 research projects at Greek and European level; most notably the Humaine Network of Excellence, within which he completed his post-doc in the field of mapping signals to signs of emotion, and the FP7 TeL Siren project (Technical Manager), which was voted Best Learning Game in Europe for 2013 by the Games and Learning Alliance Network of Excellence. He is an elected member of the Executive Committee of the Association for the Advancement of Affective Computing (formerly Humaine Association) and the Student Activities Chair for IEEE Greece. He's also a member of the Editorial Board for the Journal on Multimodal User Interfaces (Springer), Personal and Ubiquitous Computing (Springer), and Journal on Synthetic Emotions.