Access Masters & MBA Tours in Athens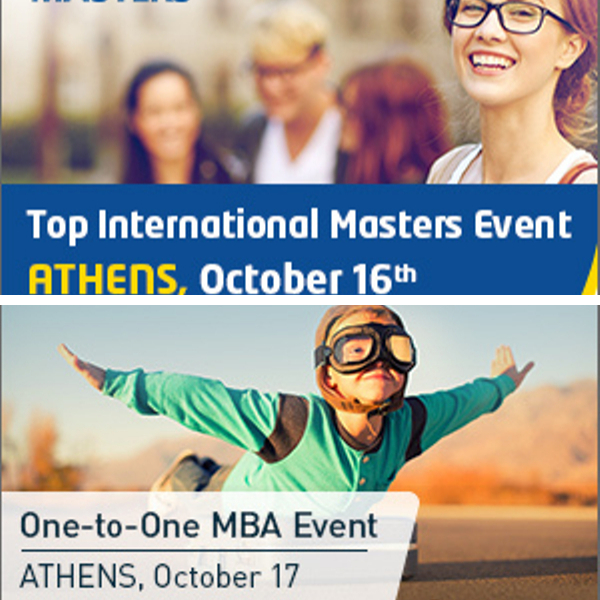 The Access Masters Tour guides you in your search for Masters studies, directs you to the schools that best match your preferences, and connects you with some of the world's best universities and business schools.
The Access Masters Tour is open to final-year university students and recent graduates who speak English that are interested in Masters degree study.





What can you expect from the event?

- Meet with top-ranked international universities and business schools
- Get advice on Masters programs suitable for you
- Obtain information on admission tests (TOEFL, IELTS, GMAT, GRE)
- Learn how to win scholarships and finance your Masters studies
- Take part in the draw to win a free campus visit
Meet in person with some of the best universities and business schools from USA, Europe, and Asia attending the Access Masters Tour in Athens.
Why consider a Masters degree:

The Masters degree allows graduates to quickly reach personal growth, greater employment opportunities and career advancement, to tap into an incredible business network. Embark on a life-changing journey with a Masters degree!


Who you can meet at the event:

Admissions representatives from ALBA Graduate Business School, University of Strathclyde, Nottingham University, Hult International Business School, Syracuse University and many more.


What you can expect from the event:

- Open Fair Session with top universities presenting Masters programmes in Business, Science, Engineering, Technology, Mathematics, Law, Arts, Humanities and many more.

- Hold personal meetings with Admissions Directors from prestigious business schools

- Get invaluable insight from our expert Masters consultants and GMAT instructors

The event is free of charge and open to all registered candidates, but early registration is mandatory to be selected for One-to-One meetings.

When: October 16 / 15:30 - 21:30
Where: Athenaeum InterContinental Hotel


Access MBA Tour In Athens
The Access MBA Tour is visiting Athens to guide the most ambitious business professionals to their dream MBA degree and professional fulfillment.


It gives you the ideal opportunity to learn more about the world's most recognized business degrees – the MBA and Executive MBA – and to speak in person with admissions directors of leading international business schools.


On the day of the Access MBA event, you will:

- Meet admissions directors during 20-minute One-to-One and small group meeting
- Take part in panel discussions featuring school representatives and alumni
- Receive advice and support from the Access MBA consulting team, as well as GMAT and scholarship information

By registering for the One-to-One MBA event, your profile will be carefully matched with the business schools that correspond to your goals and expectations – all free of charge to you. To secure your place at the event, you would be well advised to register at least 10 days before the event.


So sign up for the Access MBA One-to-One event to benefit from:

- Professional profile evaluation and coaching
- One-to-One meetings with top international business schools
- Individual consulting sessions with Access MBA experts
- School panel discussions
- GMAT workshops

Participating schools include ALBA Business School, University of Cambridge, Strathclyde University, HEC Paris, University of Nottingham and more!

Places are limited for One-to-One meetings and early registration is recommended.

When: October 17 / 15:30 - 21:30
Where: Athenaeum InterContinental Hotel
---
XpatAthens is proud to be a Media Sponsor of Access Masters & MBA Tours in Athens
---
EVENT INFO
When

:

16 Oct 2019 - 17 Oct 2019

Where

:

Athenaeum Intercontinental, Siggrou Av. 89-93

Title:

Access Masters & MBA Tours in Athens