FokiaNou Art Space: Panagiotis Voulgaris B6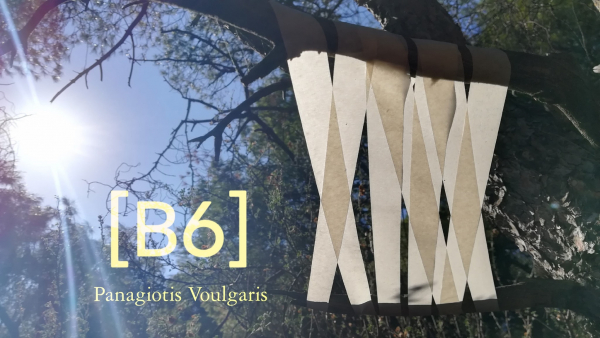 Greece's most recent lockdown period, with its requirement that citizens notify the government of their movements, provided the setting for a series of interventions in the area of Lycabettus, by Panagiotis Voulgaris. Using the code B6, to declare a venture out for exercise, Voulgaris over a period of about four months created ephemeral geometric works that interacted with the natural pine forest environment: sometimes reflecting light, sometimes becoming transparent and sometimes disappearing. The radial arrangement of work was done using paper tape, which after a short period of time was removed and recycled for use the next day. The play of light, the recording of time, steps and paths, as well as the contact with both nature and other citizens enjoying nature were the main elements of this public work of art that uniquely reflects the special conditions of the lockdown period.


In FokiaNou's exhibition, a map consisting of photographs, tapes, drawings and plants, as well as a series of raw short videos taken from a mobile phone, document Voulgaris' lockdown interventions. An installation made of thousands of meters of thread points to all the days, routes and steps needed to create the works. A simulation of the hill of Lycabettus invites visitors of the exhibition to make the journey on foot, in order to make contact with nature and appreciate its importance. In addition, a series of walks will take place throughout the duration of the exhibition.


Panagiotis Voulgaris is a visual artist and curator, and co-director of FokiaNou Art Space in Athens. He holds a Master's degree in Art and Architecture from the University of East London. He was a resident artist of the European Capital of Culture, Valleta, in 2018 and was a recipient of the STEP Travel Grant from the European Cultural Foundation. His main work is installations and interventions in archaeological sites, old buildings, and public spaces. He has participated in exhibitions and residencies in Greece, Italy, Malta, Sweden, France, Germany, Spain, Hungary, Brazil and the USA.


FokiaNou Art Space is an artist-run project space in the intimacy of a small apartment in an old building in the center of Athens. The space encourages collaborative creative efforts between Greek and foreign artists, thereby promoting and supporting the local art community. The space hosts exhibitions, workshops and projects under the direction of two artists, Mary Cox and Panagiotis Voulgaris.
www.fokianou247.gr
Opening: Saturday 9 October, 18.00
Duration: 9-30 October 2021
Hours: Wednesday – Saturday 17.00-20.00
EVENT INFO
When

:

09 Oct 2021 - 30 Oct 2021

Where

:

Fokianou 24, 7th Floor, Pagrati Metro: Evangelismos

Title:

FokiaNou Art Space: Panagiotis Voulgaris B6

Email:

info@fokianou247.gr

Website:

www.fokianou247.gr