FokiaNou Art Space - Unfolding Exhibition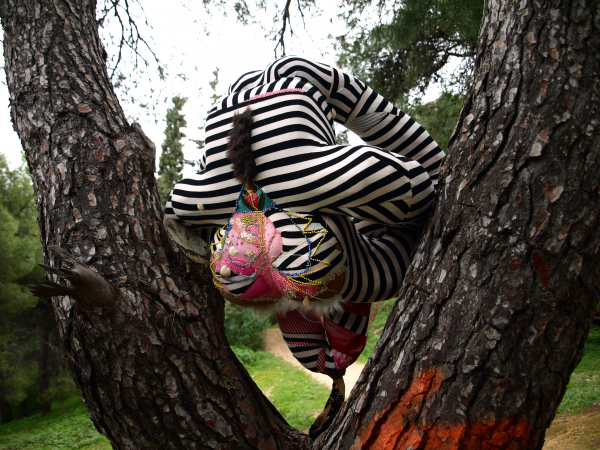 FokiaNou Art Space is pleased to present "Unfolding", a two-person exhibition by Anastasia Denos and Grigoria Vryttia. The two artists present works that focus on bodies, spirits and materiality. Through different mediums and approaches they conjure both the universal forces and hyperpersonal narratives that flow through the body. Between Denos' drawings, video/performance, and installation and Vryttia's textile and found-object sculpture, they jointly evoke the realm between intuition and physicality.
Anastasia Denos is a Los Angeles based multi-media artist. She graduated from Hampshire College, Massachusetts in 2018 where she worked closely under Sara Greenberger Rafferty. Since then she's been throwing her head against the wall of her Los Angeles studio. Using video performance, dance choreography, sculpture, drawing, and poetry, Denos is interested in the subconcious and the impressions it leaves on objects, architecture, and flesh. She has shown her work at Herter Gallery, Amherst; Non Plus Ultra and Beta Level, Los Angeles; and was chosen to participate in Hauser and Wirth's online exhibition 'Homegrown.'
Grigoria Vryttia is an interdisciplinary artist, currently based in Athens. She studied sculpture in the Department of Fine and Applied Arts, School of Fine Arts, Aristotelian University of Thessaloniki and subsequently got an M.F.A. at Wimbledon College of Art, London with a scholarship from the Michelis Foundation. Her work focuses on personal narratives, universality and subjectivity, with strong feminist references. With intuitive processes and fabric and found objects as the main mediums, she creates sculptures that balance between figuration and abstraction, concept and form. They often refer to ideas of childhood, loss, sexuality and death with cryptic references to lived experiences. Works of hers are in private collections internationally.
FokiaNou Art Space
is an artist-run project space in the intimacy of a small apartment in an old building in the center of Athens. The space encourages collaborative creative efforts between Greek and foreign artists, thereby promoting and supporting the local art community. The space hosts exhibitions, workshops and projects under the direction of two artists, Mary Cox and Panagiotis Voulgaris.
www.fokianou247.gr
Opening: Saturday 11 September, 18.00
Duration: 11-25 September 2021
Hours: Wednesday – Saturday 17.00-20.00