Onassis AiR ~ Open Call 2020/21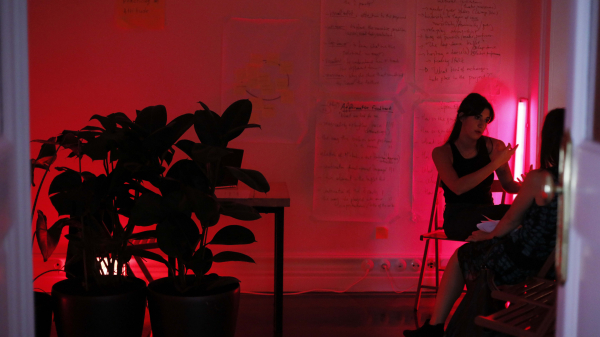 In September 2019 Onassis AiR, the annual Onassis Foundation artistic research & residency program in Athens,
opened the doors of an empty building in the center of Athens to house a community of peers from Greece and abroad. Today, after six months of inhabiting this space, filling it with hours of thinking, talking, reading, testing, and making as well as eating together, Onassis AiR has become a home. This house now belongs to more than 30 artists, curators and art practitioners.
Between March 30 and April 24, Onassis AiR 2020/21 Open Call invites artists, designers, activists, curators, collectives, educators who defy the marketable academic establishments, lawyers, performance makers, economists, agitators of institutional models, philosophers, filmmakers and other practitioners who are interested in a communal exploration of two thematic focus areas which the program finds urgent to explore during its second year in existence: identities and ecologies.


Inspired by the title of a novel by Wilson Harris, The Infinite Rehearsal in Four Movements is conceived as a collective research program. Fall 2020: Identities Annihilated (from September until December 2020) will be convened by performance theorist Hypatia Vourloumis and will attend to the ways in which identities cannot be reduced or made transparent. Spring 2021: Everything Equally Evolved (from February until May 2021) will be convened by the writer and artist James Bridle and will explore how the tools we have can at hand be reimagined to bring us down to Earth.


FALL 2020: IDENTITIES ANNIHILATED
Movement I: 14 September – 25 October 2020
Movement II: 2 November – 13 December 2020


SPRING 2021: EVERYTHING EQUALLY EVOLVED
Movement III: 17 February – 31 March 2021
Movement IV: 7 April – 19 May 2021

The Onassis AiR 2020/21 Open Call is for participants of any age who live & work in Greece or anywhere in the world, but who will commit to being in Athens for the whole duration of the program. Participants should be able to clearly demonstrate an extensive engagement within their practice of one of the two research topics that will be explored in 2020/21, to seek collective exploration and co-existence with their peers without hierarchical structures, and to participate in a non-homogenous collective research environment composed of groups of practitioners coming from diverse disciplines and practices. Each participant will receive an individual research fee of 2,500€ (euros), on top of other resources detailed in the full open call.

ABOUT THE PROGRAMS

FALL 2020: IDENTITIES ANNIHILATED
Convened by: Hypatia Vourloumis

During the Infinite Rehearsals: Movement I & II, participants will seek to attend to the ways in which identities cannot be reduced or made transparent. They will practice a methodological structure of collective study and experimentation, aesthetically and poetically imagined through non-linear associative principles. Crucially, as they will find themselves on the Mediterranean coast, and in a city that is the constructed ancient origin of Western civilization and white supremacy, they will think through the notion of historical identity as a performative, as a method, and not a state of being. In other words, they will engage with questions of doing as opposed to knowing or being, attend to the ongoing legacies of colonial and anti-colonial history rather than ontological claims, refuse linear time, embrace opacity and the movement of freedom, practice disidentification. They will ask: how are we all entangled, in the quantum physics' sense, in a planetary 'difference without separability' as Denise Ferreira da Silva writes? How are we always already "singular-plural" (Jean-Luc Nancy), in the elsewhere and otherwise? How can we destroy the fixed notions and categories of separation inherent to racial capitalism through the aesthetics of a transformative mode of history and time, through the aesthetic imagination and its materializations as a transformative and abolitionist force? How are we always already sharing out the unshareable, invaluable, incalculable?


SPRING 2021: EVERYTHING EQUALLY EVOLVED
Convened by: James Bridle


During
Infinite Rehearsal: Movement III & IV
participants will collectively explore some of these, and other questions: How can the tools we have at hand be reimagined to bring us down to Earth? How do we reassert the importance of community while building solidarity with the more-than-human world? What would it look like to take the intelligence of animals, plants, and ecosystems as seriously as we take the intelligence of smart machines? What is the relationship between distributed networks and distributed power? How do we practically engage with sensoriums other than our own? And what is vital about doing so here and now, on the edge of the Mediterranean and other, possible futures?
ABOUT THE CONVENERS
Hypatia Vourloumis
is a performance theorist working across anticolonial, feminist, critical race and queer theory; Indonesian and modern Greek cultural production; philosophies of language; theories of aesthetics, music, poetics; sound studies. She received her Ph.D. in performance studies at NYU and was a postdoctoral research fellow at the Interweaving Performance Cultures Research Centre at Freie University and the Research Centre for the Humanities in Athens. She is co-editor of Performance Research journal 'On Institutions' and has published in journals, art catalogs and edited volumes including Women & Performance, Ephemera, and Theatre Journal. She is co-author with Sandra Ruiz of a book on the aesthetics of resonance (forthcoming with Minor Compositions) and completing a monograph on postcolonial Indonesian paralanguage. She teaches critical theory in the MA Art Praxis at the Dutch Art Institute.
James Bridle
is a writer and artist working across technologies and disciplines. Their artworks have been commissioned by galleries and institutions and exhibited worldwide and on the internet. Their writing on literature, culture, and networks has appeared in magazines and newspapers including Wired, The Atlantic, the New Statesman, The Guardian, and the Observer. "New Dark Age", their book about technology, knowledge, and the end of the future, was published by Verso (UK & US) in 2018, and they wrote and presented "New Ways of Seeing" for BBC Radio 4 in 2019. Their work received an Honorary Mention at the Prix Ars Electronica 2013, an Excellence Award at the Japan Media Arts Festival 2014, and an Honorary Mention at CERN COLLIDE 2016, and was shortlisted for the Future Generation Art Prize 2014. They won the Design Museum Graphics Design of the Year in 2014. They were named as one of the 1000 Most Influential People in London by the Evening Standard in 2007, and one of the 100 Most Influential People in Europe by WIRED Magazine in 2015. They hold a Master's Degree in Computer Science and Cognitive Science from University College, London, and wrote the dissertation on creative applications of Artificial Intelligence.
ABOUT ONASSIS AiR


ONASSIS AiR is an initiative of the Onassis Foundation, a cross-pillar collaboration between the Onassis Culture & Onassis Education pillars of the Foundation. Committed to its mission of extending access to health, education, and culture to as many people as possible, the Onassis Foundation supports education with over 7,000 scholarships covering study at the doctoral and postgraduate level in a wide range of fields both in Greece and internationally, investing in curious minds. At the same time, over 1,000 artists who are already releasing their potential enjoy the support of the Onassis Foundation in the form of scholarships. In addition, with over forty Onassis Stegi productions that tour abroad, it presents Greece at its best to the rest of the world. A restless Foundation that takes the support for artists' needs to the next level through Onassis AiR, its new artistic research & (inter)national residency program.




EVENT INFO
When

:

24 Apr 2020

Where

:

16A Frynichou Str.

Title:

Onassis AiR ~ Open Call 2020/21

Email:

air@onassis.org