Operation Clean-Up: Changing The Face Of Athens
by XpatAthens
Wednesday, 03 February 2021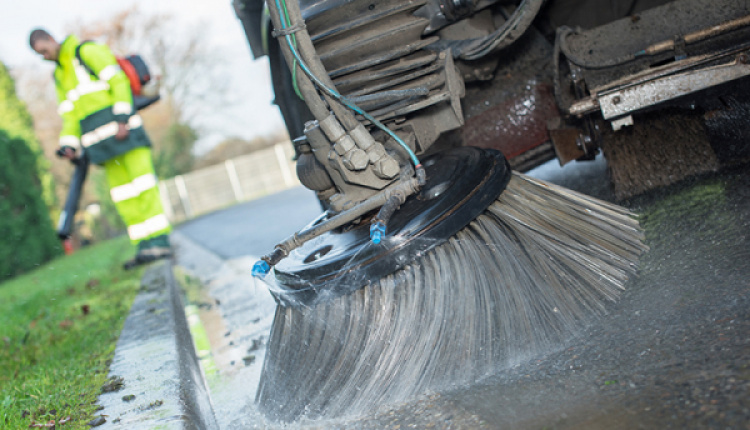 For many years, Athens has been facing complaints from residents, professionals, and visitors alike about cleanliness. As in any capital around the world, cleanliness is essential, and the objective of every municipality is to design practices that are both substantial and effective.
For the first time, the City of Athens is moving towards a strategy of total cleaning interventions that have shown significant results. For the last 12 months, 37 cleaning operations in 37 different areas have been changing the image of dozens of Athenian neighborhoods.
How Things Are Changing
Every Sunday, entire city areas are sanitized. To achieve the required cleansing result, dozens of cleaning staff gather in a specific area to wash sidewalks, streets, and public spaces with hot water. Due to the current circumstances, they also carry out the required disinfection.
These operations are the pinnacle of everyday cleaning and combined with smaller-scale but equally significant actions, they are changing the city for the better. For example, the group interventions that take place in the squares. During those interventions, a large group of staff take care of the green and wash and repair the equipment within a few hours. The cleaning staff is also in charge of washing-out the bins–that are gradually being replaced by new ones throughout Athens–and organized recycling.
---
Street cleanings have been happening every Sunday for about the last year, neighborhood-by-neighborhood, and not just for hygienic reasons during Covid. The Mayor would say 'it's about returning to the basics of quality of life,' and it's starting to have a noticeable effect. Attention to neighborhoods outside the touristic center – focusing on the neighborhoods where people actually live – is part of telling people that they are wanted and belong in Athens.
---
Equipment
Today, Athens is renewing its old cleaning equipment, but it has also obtained new, modern machinery to make cleaning even more efficient. The cleaning operations rely on modern equipment such as large vacuum cleaners, 20 high-pressure cleaners, water trucks, sweepers, and other equipment for washing and sweeping sidewalks, squares, and pedestrian streets. In other words, the municipality is moving away from superficial cleaning, which may have temporarily given the feeling of cleanliness but did not offer the desired result.
How Often Do Cleaning Operations Take Place?
Every Sunday and in a different area. In every Municipal Community, non-stop. The Municipality of Athens now follows a cleanliness cycle where one cycle closes a new one opens up. The cleaning cycle is supported by daily actions in every corner of the city. "This couldn't go any further, and we all saw it for so many years," explains Mayor of Athens Costas Bakogiannis. "We have the human resources and we are renewing the equipment. We had to, at all costs, find another way to clean Athens. We had to design the cleanliness plan from scratch, avoiding one mistake: Clean it in fragments, without planning, phobically. We've reached a threshold and applied dynamic interventions in the whole city, in entire neighborhoods. And as it turns out, we are winning the bet. We have a lot of work ahead of us, but now we know how to deliver the results that all Athenians want", he adds, talking about the citiy's new cleaning strategy.
Operations By Date
Votanikos- Kato Petralona 19/01/20, Kypseli 26/01/20, Kolonaki - Exarchia 02/02/20, Gyzi- Goudi 09/02/20, Pagrati 16/02/20, Pagrati- Neos Kosmos 23/02/20, Patissia 08/03/20, Omonia 10/05/20, Akadimia Platonos 17/05/20, Neapoli Exarcheion 24/05/20, Probonas 31/05/20, Neos Kosmos 07/06/20, Plateia Amerikis (Filis Street) 14/06/20, Kolonos 21/06/20, Ampelokipi 28/06/20, Metaxourgio 5/7/20, Sepolia 12/7/20, Kolonaki 19/7/20, Plaka 26/7/20, Agios Panteleimon 6/9/20, Exarcheia 13/9/20, Kato Patissia 20/9/20, Kato Patissia 28/9/20, Sepolia 4/10/20, Ano Petralona and Thiseio 11/10/20, Neos Kosmos 18/10/20, Ellinorosson 25/10/20, Votanikos 01/11/20, Agios Pavlos 8/11/20, Lambrini 15/11/20, Omonia 22/11/20, Metaxourgio 29/11/20, Koukaki 6/12/20, Commercial Triangle 13/12/20, Kypseli 10/01/2021, Kypriadou, Ano Patisia 17/01/21, Gyzi, 24/1/21, Kato Petralona, 31/1/21
---
XpatAthens extends a warm thank you to This Is Athens and the City Of Athens for sharing with us news and inspiring stories about how Athens is constantly becoming a cleaner, friendlier, and more welcoming city to live in.