ACS Athens Receives The 'Regional Peace Through Sport-Initiative Of The Year' Award
by XpatAthens
Saturday, 20 October 2018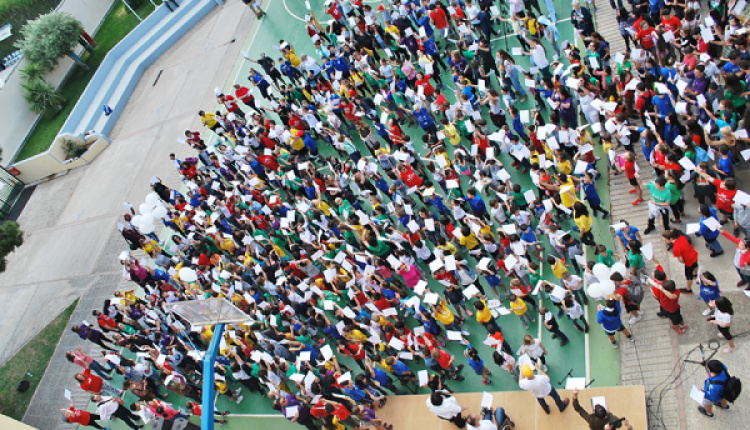 During an inspiring and emotional celebration by the Peace and Sport Organization on the island of Rhodes,
ACS Athens
was honored and recognized for organizing the "Color of Peace" event that took place on April 20, 2018. All JK-Grade 12 students participated in an event dedicated to promoting peace through sport and to highlighting the importance of education for ALL children while empathizing and actively supporting those young individuals who have lost their home because of war.
"Peace and Sport" is an independent and international organization that promotes Peace through the power of Sport and it is based in Monaco, functioning under the High Patronage of H.S.H. Prince Albert of Monaco.


Each year, the "Regional Peace through Sport" initiative rewards a company, a foundation, an institution or an event that has demonstrated its commitment to benefit society through sport and uses its assets and experience to promote sustainable peace and social awareness. ACS Athens was among a select group of organizations/institutions from all five continents that were considered for this prestigious award and was honored to receive it. The award was accepted by Dr. Stefanos Gialamas, ACS Athens President, Ms. Annie Constantinides, Director of Athletics and Ms. Manya Louvari, Member of the ACS Athens Board of Trustees.


ACS Athens participated in "Peace and Sport" initiative by creating and promoting the "White Card" campaign to promote the positive and constructive values of sport around the globe. During the "White Card" celebration on April 20, 2018, the entire ACS Athens community of more than 1000 students and faculty participated in a school-wide event sending a strong message in support of empathy and peace and against discrimination. The celebration included a soccer match with students and unattended refugee minors who live at the shelters of "The Home Project" Organization, an ACS Athens partner for the "Youth-to-Youth" Program. The ACS Athens student body consists of over 65 nationalities, and it is an example of respecting and celebrating different cultures, while it fosters an environment that respects and promotes universal values and principles for humanity. Leading to the "White Card" celebration, the school organized several activities in support of the Youth-to-Youth Program, as well as educational activities throughout the different grade levels, where all students addressed the significance of peace in a troubled world and the power of sport in uniting cultures across the globe.
The Youth-to-Youth Program of ACS Athens - founded in 2016 - is an educational and social integration program for unaccompanied minors aiming to address four areas of need: academic learning, skills development, wellness (through Sport and Art) and social integration. Since the inception of the program, approximately 100 unattended refugee minors have received various types of formal education with the collaboration and volunteer involvement of ACS Athens faculty members and fellow students! In addition, 18 unaccompanied refugee minors are currently attending ACS Athens on full-time scholarships. The "Color of Peace" event, promoting sport, peace, and social inclusion, was one more manifestation of the values of both ACS Athens and the "Peace and Sport" Organization, in a collective effort to make a positive impact among individuals that are in need of a better and peaceful life.