Weddings In Greece 2015
by XpatAthens
Thursday, 19 February 2015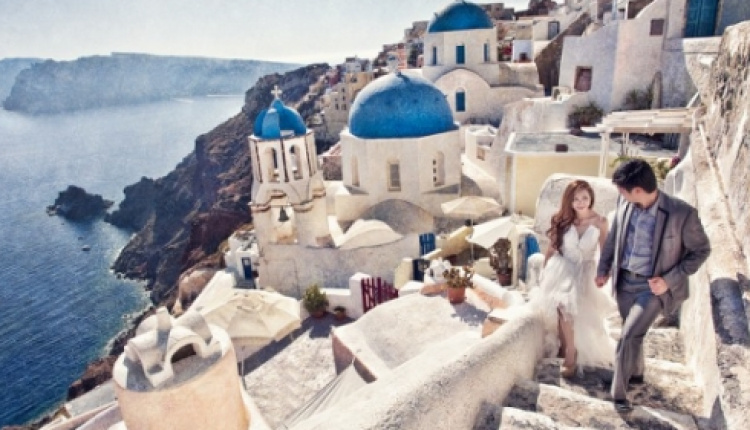 The history, weather, and picturesque landscapes of Greece and its islands make it a hugely attractive destination for couples looking to add a little extra magic to their special day, making it one of the most popular countries in Europe for overseas weddings in recent years.
Perhaps one of the greatest virtues of Greece as a wedding destination is that its variety of landscapes permits the couple to really be in control of the aesthetics and tone of their wedding.
With that in mind, we've put together some of the most popular Greek wedding destinations and themes to inspire you.
Destinations
Santorini
Santorini is one of the most beautiful islands in the Mediterranean and is justifiably one of the most popular wedding destinations in Greece. The island features the famous blue and white villas and churches, excellent beaches, and fantastic views stretching out over the blue water. The laid back and clean aesthetic of the island lends itself to small and personal weddings, though that's not to say there isn't plenty of scope to invite hundreds of your friends and turn it into a big wedding – there is. Whichever one you decide on, it's hard to go wrong in an area as beautiful as this.
Kefalonia
The island of Kefalonia may only be 50km long and 25km wide, but it manages to pack a lot of romantic views into its small space. With beautiful beaches, stunning water, and an untouched atmosphere that is seldom replicated elsewhere, the island is the ideal place for a small beach ceremony with an intimate audience of family and friends.
Themes
Cruise Weddings
A great way to have a Greek wedding and begin your honeymoon is by taking a cruise wedding, in which you get to share the build-up to the ceremony, the ceremony, and week-long after party with your friends and family. A cruise wedding isn't a Vegas wedding, however – you'll still enjoy as much control over the day as you would if it were taking place on land. With so many beautiful Greek islands worth visiting, a cruise wedding is a great way to see them all and make your wedding especially unforgettable – it is also convenient for those couples who can't decide which picturesque landscape they want in the background of their wedding photos.
Greek Group Weddings
With overseas weddings growing in popularity each year, couples are thinking of ever more creative ways to keep the costs down and turn their dream wedding into a reality. One of the most fun ways to do this is to double, triple, or even quadruple or more up with other engaged couples and have a group wedding, thus slashing costs. Sixteen couples recently wed in one massive ceremony on the island of Crete, taking the idea of "My Big Fat Greek Wedding" to a whole new level! While it's unlikely to save you big money on flights or accommodation, you can save on rentals, food packages, and just about everything else connected to a wedding (though feel free to splurge on your own dress!).
Greek Style
Most people who get married in Greece do so because of the beauty of the landscape, but those who delve a little deeper will find that adding a healthy dose of Greek culture to the ceremony adds plenty of potential to make it unique, stylish, and memorable. The beauty of this approach is that it is so simple – just think about Greek culture while planning! This means adding plenty of fish and local fruit in your meals, serving Greek olives, and making sure all the wine comes from within the country. You can even find plenty of wedding dresses inspired by Ancient Greece and include local music, dances, and customs into your ceremony and after party. If you really want to be Greek, follow the age-old custom and turn your wedding into a three day celebration – it'll be worth it!
Final Advice
The hospitality and beauty of Greece makes it an unforgettable wedding location. And the beauty of a Greek wedding is that there are no rules to follow – you can have an intimate or extravagant ceremony, choose a romantic island or the bustling city of Athens; the choice is yours. Whichever you decide, take the time to really think about what your perfect wedding would look like – because in Greece, it's probably achievable.
By Jemma Bond
Photo: iefimerida.gr