2 Greek Hiking Trails Among Europe's Most Photographed
by XpatAthens
Tuesday, 03 May 2022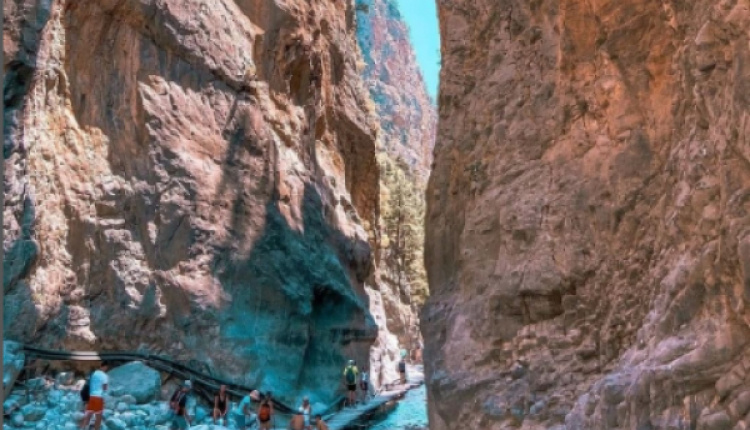 Two Greek hiking trails feature on a list of what can be considered the most scenic trails in Europe, based on online reviews and social media.
The list of beautiful trails, which was put together by workout equipment company Onbuy Treadmills, was compiled with the help of various experts and Tripadvisor reviews. The trails on the final list were then ranked according to the number of times they've been tagged on Instagram. Europe is home to thousands of hiking trails, and the two Greek trails on the list were ranked as number 27 and 28.
The Samaria Gorge trail, the most famous hiking route on the island of Crete, is placed number 27. A big draw for tens of thousands of visitors each year, especially during the summer, it's a 16-kilometer hike that takes from five to eight hours to complete depending on your shape and experience, all downhill.
This ruggedly beautiful canyon is not only instagrammable, but a place you'll remember. The trail begins at Xyloskalo, more than 1200 meters above sea level, on a steep, rocky path downward (a walking stick is a good idea here), and continues along the Tarraios river, through the abandoned village of Samaria and the natural habitat of endangered wild goats, through the narrowest part of the gorge known as the "Gates," where the steep rock walls stand only a few meters apart.
The second Greek trail on the list, in 28th place, is perhaps less famous among hikers, but all the more recognizable in photos due to its iconic views. This is the Fira-Oia trail on Santorini – a path connecting the two famous villages running along the edge of the caldera. 10.5 kilometers long, it is a moderately challenging route that takes around 3 hours to complete regardless of the direction you choose, featuring some more demanding, steep sections with loose gravel.
To read this article in full, please visit:
greece-is.com
Main image:
@girlwith.thecamera