8 Ways To Feel Like A Local In Athens
by XpatAthens
Friday, 17 March 2023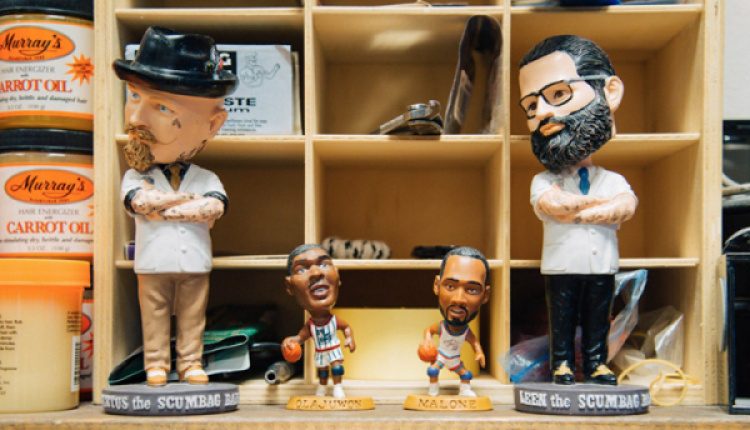 The monumental side of Athens comes at you like fireworks frozen in time, but if showstoppers like the Acropolis dazzle the first-time visitor, they also form part of the daily tapestry of life for regular Athenians. Tuning into the local rhythms is not necessarily an exercise in what's 'Instagrammable'. Rather, as a resident observer of this pulsing city, I've found that some of the best things about Athens are those little backstage sights and sounds that add up to an urban experience that can border on the theatrical. A tangible modern energy mixes with ancient allure, and despite some disruptions caused by the recent lockdowns, life goes on in a modified Athenian style. Here's how to claim some of that celebrated Athens groove for yourself and feel more like a local (though you might have to be patient for just a little while longer to experience a couple of these suggestions):
Stroll Through Mets To Pangrati
Mets is one of the quietest central Athens neighbourhoods—and not just because it's home to the historic First Cemetery of Athens (where you'll find the elaborate tomb of Heinrich Schliemann, the archaeologist who excavated ancient Troy). The streets here are an alluring jumble of townhouses in pastel shades with abundant pink bougainvillea flowers fluttering about. Some of the side roads, like Nikiforou Theotoki and Klitomachou, seem to leap right off of a 'Welcome to Athens" movie screen. Wander over to Varnava Square, where Mets flows into the bohemian heart of Pangrati. The little oval-shaped square is lined with traditional restaurants and hipster cafes--grab a takeaway coffee from Oliver Nuts & Flavours (20 Empedokelous) and take in the scene, even if it's somewhat more subdued right now.
Go To The Same Bakery Three Days In A Row
At the time of the first lockdown in spring 2020, I was heartened to see bakeries listed as essential businesses. The fournos, or bakery, is indeed an indispensable ingredient of Athenian life. Nearly every fournos sells the same staples but many have specialty items too, and some are quite posh—especially in upscale neighbourhoods like Kolonaki. Find one that you like and go there a few mornings in a row. After around the third day, they will likely start to recognise you and maybe even offer you a sample of that morning's fresh baked specialty. My current faves are Queen Bee at 45 Patriarchou Ioakim in Kolonaki (for the almond croissants), Afrato at 13 Evridamantos in Neos Kosmos (best cinnamon buns in town) and, slightly further afield in Ano Glyfada, Special Cakes (168 Dim. Gounari) for a whimsical atmosphere and heavenly layer cakes.
Take A Walk On The Fancy Side
New York has Park Avenue. Athens has Irodou Attikou Street - which is much shorter, but packs in more pomp and circumstance as the home of both the Presidential Palace and Maximou Mansion, official seat of the Greek Prime Minister. Tucked between Vassilis Sofias Avenue (on the north) and Vasileos Konstantinou and the Panathenaic Stadium on the south, the street straddles the National Garden and at all hours of the day or night, you'll clock Evzones dutifully standing guard at their posts along the street.
Go Higher Than The Acropolis
On most fair weathered weekends, many Athenians make a dash for Mount Ymittos. At 1,026 metres, this popular green escape is about seven times taller than the Acropolis. The ridge, which they call Trellos (the "crazy mountain"), forms the long eastern spine of the Attica basin and actually supplied fountains with drinking water in ancient Athens. Today there are hiking trails galore, but it's even worth commandeering a taxi if you have to, for your dose of sylvan splendour and the mesmerizing views of city and sea.
Swap Plaka For Mitropoleos Street
Most visitors make a beeline for the sinuous lanes of charming Plaka and rightly so. But as you'd expect, it's not where Athenians go to shop. For a more native retail experience, head one block south of bustling Ermou Street - the pedestrianized retail artery of global and Greek brands stretching from Syntagma Square - to the quieter and prettier Mitropoleos Street. This slender street is home to the impressive Metropolitan Church of Athens with its pretty plaza and is also packed with interesting one-off shops. There's Dangerous Minds, where you can pick up cool street-rooted labels , Greek gourmet hotspot, the Ergon House food hotel; plus the "secret" back entrance to Hondos Center, the Greek emporium where locals go to stock up on their beauty and grooming staples (the main entrance is on Ermou).
Get A Greek Haircut
Speaking of… Athenians are obsessed with good grooming and it sometimes seems like there are more barbershops and hair salons in Athens than there are Athenians. Getting your locks styled or bangs trimmed is arguably as much a social exercise as an aesthetic one in the Greek capital. Of course, these days, you need to make an appointment in advance, but go on and give it a try. I can't speak for the ladies, but for a great gent's cut I'm partial to Music Barber Shop in Pangrati (21 Eratosthenous).
Potter About The Pnyx
The Pnyx hill is the storied place where ancient Athenians gathered for their ekklesia, the early democratic assemblies, and the ruins of the big carved steps and stone speakers' platform are still there. With the Parthenon in the background, this forested spot is truly beautiful – especially at sunset - but still tends to be better known among locals than visitors who generally flock to Philopappou instead.
Go to Piraeus—But Skip The Ferry
You may know Piraeus as the hectic port of Athens and the place where you go for that mad dash to the ferry, but did you know you can also get some of that Aegean island flavour without so much as stepping foot on a boat? Sunny weekend days and summer evenings after work see Athenians sidling up to breezy cafes and tavernas to enjoy fresh seafood by the water's edge in the atmospheric Piraeus 'hood of Mikrolimano. This poetic round harbour is just a short taxi ride from the center of Athens. Behind it, Kastella hill affords stunning views of the Saronic Gulf from the top. Or venture to elegant Zea Marina. There, on the south side of this horseshoe-shaped harbour, the yachts come in all shapes, sizes and colours: Greek sea daydreaming guaranteed.
This content was originally published on
This is Athens
Written by: Anthony Grant
Photo Credit: Thomas Gravanis
---
Whether you've just arrived in town – or have been here for years – Athens always has new secrets to share!
This is Athens
is the official guide to this captivating city of ancient energies and booming urban culture. Compiled by a team of specialist local writers, This is Athens brings you an authentic and intimate portrait of a living Athens beyond the guidebooks – along with daily curated listings of all the best events and great weekend inspiration all-year round. From must-know neighbourhoods and emerging art hubs, to gourmet hotspots, cool shopping and the buzziest bars, This is Athens will help you to get the most out of living in Athens!
Thank you This is Athens for your contribution as an
XpatAthens Partner.