Milos: Home To The Best Beaches In Greece
by XpatAthens
Monday, 08 February 2021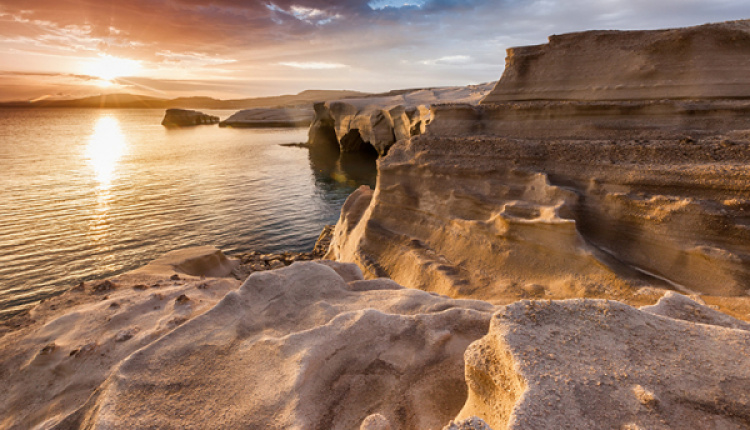 When people ask which island has the best beaches in Greece, they expect to hear answers like "Crete" with the world-famous pink sands of Elafonisi Lagoon or "Mykonos" with the beaches named Paradise and Super Paradise. While these beached are beautiful, they often get overcrowded, hard to get to, or expensive. For just as gorgeous but more accessible beaches, I invite you to the island of Milos.

Milos is the most southwestern island in the Cyclades. It takes about 3 hours to get to Milos from the port of Piraeus on a fast ferry. The island has an airport, so taking a flight is also an option. Milos has over 40 beaches, and since the island is relatively small, you can go beach hopping, taking-in stunning seaside after stunning seaside, in a short time. Like most Greek islands, Milos offers both organized and unorganized beaches.

Organized beaches offer sunbeds, umbrellas, and snack bars so you can eat, drink, and relax on the beach without bringing much more than your beach towel and sunscreen.

Unorganized beaches offer raw Greek nature at its finest but with very few extra amenities. There are typically no sunbeds for rent, no umbrellas, and few, if any, options for food or drink. If you bring along your gear, you'll be rewarded with unspoiled beaches and free access.

Sarakiniko

Sarakiniko is a truly unique beach with an almost lunar landscape featuring white volcanic rock formations set above the sparkling turquoise water. Its otherworldly feel makes it a popular spot for climbing, diving, and snorkeling. Sarakiniko is not an organized beach, so bring along a towel, water, and sunscreen.

Firiplaka

Firiplaka beach is an easily accessible, gorgeous beach where you can rent sunbeds and get refreshments. With sand instead of pebbles, Firiplaka is the calm, clean cousin of the wilder beaches nearby. Firiplaka is an ideal beach for a relaxing, enjoyable afternoon at the beach, however, try to arrive early as sunbeds can sell out.
Triades
Triades beach constists of 3 sandy beaches side by side. Situated on the west side of the island, this fairly unknown beach is remote and unorganized with no restaurants, cafes, or sunbeds anywhere to be seen. If you're looking for an unspoiled setting, off-the-beaten-track, you should head to Triades!
To read this article in full and discover other amazing beaches on Milos, please visit:
internationalliving.com