Exploring The Vineyards Around Athens
by XpatAthens
Friday, 02 October 2020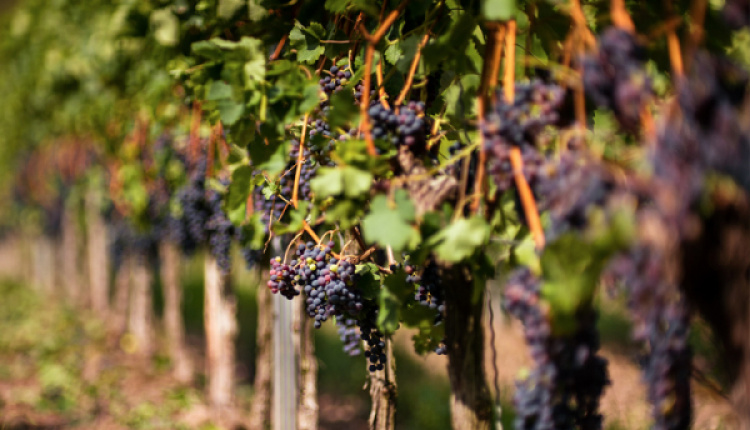 If you're a wine lover, we've got some good news: The past 30 years have seen the renaissance of Greek wine, with an impressive array of exciting labels from all over Greece, so schedule your wine tour right now.
Μadrid may be the only capital in the world to have its own wine appellation, but Athens is still one of the few major cities to boast a vineyard on its doorstep. Although not as well-known as Vienna's Heurige wine region, the Mesogaia valley, a mere 30km from downtown Athens, is covered with over 650 hectares of vines. You fly right over the vineyards as your plane lands at Athens International Airport. The Mesogaia vineyard, defined by Mount Pendeli to the north and Hymettus to the south, has been the capital's purveyor of inexpensive, everyday wine for centuries.
Mesogaia is considered the birthplace of retsina. The local grape, the sturdy Savatiano, can produce excellent resinated wines and a wide range of non-resinated, dry whites. Over the past 30 years, there have been so many successful experimental vinifications of the Savatiano that it is now considered one of the most exquisite grapes Greece has to offer.
Two other areas on the outskirts of Athens have important vineyards: one to the north, extending from Stamata to the village of Afidnes, and one to the west, centered around the town of Megara.
At the turn of the 20th century, Attica was Greece's most important wine-producing region. Sadly, most vineyards have now disappeared as the city expanded in all directions, especially from the mid-sixties onwards. When the Athens airport relocated to Spata in 200, more than 1,800 hectares of vineyards were sacrificed. However, this was offset by a decree ruling that all the surrounding land will remain farmland indefinitely. The legislation has saved many of the vineyards around Spata, Markopoulo, and Koropi.
Even though more than 40 wineries currently operate in the Mesogaia region and beyond, very few are open to visitors. On the plus side, they are so close to Athens that some of them can even be reached on public transport, although using a car is best if you want to drive through the vineyards and combine a visit to one or more wineries with other attractions and beaches nearby.


These Attica wineries are open to the public and available for tours and tastings. Call or email in advance to arrange your visit.



Ktima Kokotou




Ktima Kokotou is a lovely estate surrounded by nature, 23 km north of Athens. It was created by George and Anne Kokotos in 1980, and if you're lucky you will be shown around by Anne, who is English and passionate about wine. The estate is known for its elegant and sophisticated produce. Wines that you must try: their flawless Savatiano, their elegant Chardonnay, and the award-winning Kokotos Estate Red.
Address:
Kokotos Estate, Stamata, 145 75
Telephone:
210 8145113
Note:
Wheelchair Accessible
Papagiannakos Winery

Vasilis Papagiannakos is the first winemaker in Greece to have built a bioclimatic winery, designed by award-winning architect Elena Stavropoulou. The building is beautiful and impressive, with lots of wood and big windows overlooking the vineyards. Wines here are very modern and popular on the export markets. Must try: a meaty Savatiano from old vines, an ultra-modern version of Retsina, and a truly impressive rosé called Granatus.
Address:
Pythagora, Markopoulo, 190 03
Telephone:
22990 25206
Note:
Wheelchair Accessible
Mylonas Winery

This proud-to-be-small winery was created in 1917 and is currently run by three Mylonas brothers who have made a name for themselves as ambassadors of the Savatiano grape. Winemaker Stamatis Mylonas doesn't need much convincing to put together a vertical tasting of his Savatiano wines, proving what an exciting varietal this is. Also, unmissable is his steely Assyrtiko.
Address:
3 Ippokratous, Keratea, 190 01
Telephone:
22990 68156
---
Whether you've just arrived in town – or have been here for years – Athens always has new secrets to share!
This is Athens
is the official guide to this captivating city of ancient energies and booming urban culture. Compiled by a team of specialist local writers, This is Athens brings you an authentic and intimate portrait of a living Athens beyond the guidebooks – along with daily curated listings of all the best events and great weekend inspiration all-year round. From must-know neighbourhoods and emerging art hubs, to gourmet hotspots, cool shopping and the buzziest bars, This is Athens will help you to get the most out of living in Athens!