Athina Luxury Suites ~ The Place To Be In Santorini
by XpatAthens
Monday, 09 March 2020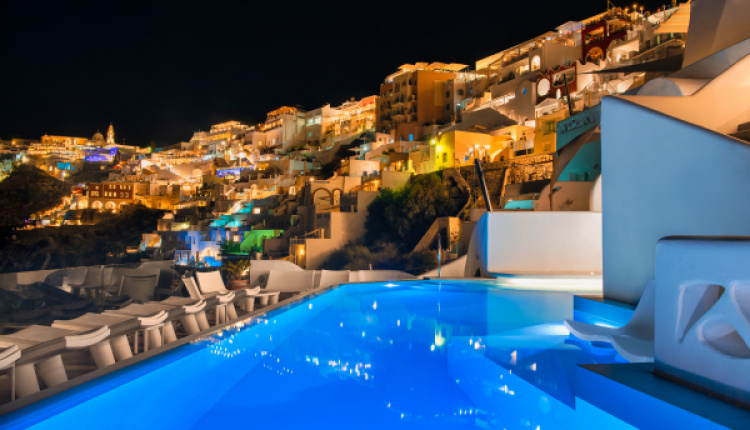 Athina Luxury Suites hotel is designed for discerning guests looking for a perfect combination of serenity and luxury on the island of dreams, Santorini, Greece.
Each one of the perfectly designed suites provides its own unique set of super-luxury amenities, astonishing caldera views and the top service you deserve while on vacations.
Additionally, an unforgettable dining experience awaits you at Esperisma bar-restaurant, where you may enjoy Mediterranean and Greek cuisine inspired by the freshest local ingredients available. Note that
Esperisma Bar-Restaurant
was this year's winner of
Luxury Lifestyle Awards
in the category of Luxury Restaurant in Greece.
Moreover, you may experience the ultimate rejuvenation of body and soul in the brand-new Aphrodite's spa, while you can spend some time relaxing with your refreshing cocktail in the fully renovated new infinity heated swimming pool with a pool bar, admiring the perfect view to the Caldera of Santorini.
Last but not least, Athina Luxury Suites is the perfect setting for your special day too: Imagine your wedding or honeymoon in Santorini with the caldera and volcano as a backdrop... In the courtyards of the island's churches and on our terrace, Athina Luxury Suites offers couples a real-life fairytale wedding venue each year.
With all that being said it wasn't, of course, a coincidence that Athina Luxury Suites with its breathtaking views and world-class services in Fira was awarded as the Best Wedding Hotel in Europe, Best Destination Wedding Hotel in Greece and Best Romantic Hotel in Greece by the Haute Grandeur Global Awards on October 19th, 2019 at The St Regis, in Kuala Lumpur, Malaysia.
Athina Luxury Suites also triumphed at the World Luxury Hotel Awards winning the title of the Best Luxury Honeymoon Hotel in Europe, at the 13th Annual World Luxury Hotel Awards ceremony held on October 12th, 2019, at the Arctic Tree House Hotel, in Finland.

Looking for an unforgettable stay in Santorini? Search no more as you have already found Athina Luxury Suites!