Mystras – The Dead City
by XpatAthens
Wednesday, 18 February 2015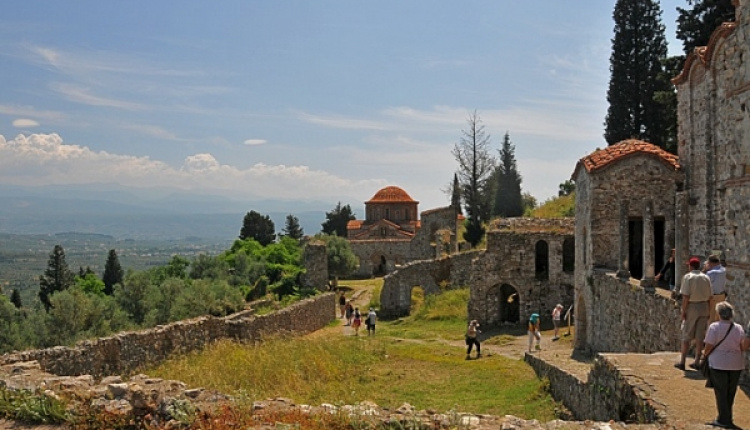 Magnificent, spectacular a glorious place, Mystras (5 Km north-west of Sparti) is one of the most exciting cities in Peloponnese. Standing still in time, the dead city lies on the slope of the sheer, strange hill with the fortress at its top. The whole of Mystras is an open-air museum; A reminder of glorious era of power and culture. Because of its good preservation, Mystras is sometimes compared to Pompeii in Italy.
It is one of the UNESCO World Heritage Sites. There are two entrances: one at the bottom of the site and the other one in the middle. It is about 6 km away from Sparti. In the modern village of Mystras - situated 1 km or so from the archaeological site, there are a few restaurants and hotels.
Its fortifications and churches, its palaces and mansions, its roads and fountains, charm thousands of visitors daily and offers them valuable insights in the evolution and culture of the Byzantines.

For two centuries Mistras was at the forefront of developments and had a brilliant history full of glory, splendour and political, social and cultural contributions. Its story begins in the mid-13th century when the Franks were dominant in the Peloponnese. In 1249 Villehardouin II built an impregnable fortress at the top of a hill called Mistras or Mizithras. Ten years later Villehardouin found himself a prisoner of the Byzantine Emperor Michael Paleologus and bought his freedom by handing over the fortresses of Mistras, Monemvasia and Mani. Mistras offered security, so that the inhabitants of neighbouring Lacedaemonia, as Sparti was then called, made their homes on the slopes surrounding the fortress.
The settlement and the Hora (town) were protected by a wall, but the new houses were built outside the enclosure. Another wall protected the new settlement, Kato Hora. The strategoi (generals) governed the town, and as of 1308, when the seat of the Diocese had been moved to Lacedaemonia,

Mistras became in the mid-14th century the capital of the Peloponnese and the seat of the Seignioly (Despotate) of the Moreas, with a ruler or despot who enjoyed tenure for life.

Sightseeing

The Palaces

The palaces of the despots of Morea dominate Mistras from their rocky foundations in the centre of Ano Hora where the Monemvasia gate leads from Kato Hora. It is a spectacular complex, comprised of buildings built at different times. The first, the "mansion of the Cantakuzenoi", was constructed in the first years, perhaps by the Franks. The second edifice dates from the same period (1250-1350). The third, a four-storey building, was erected between 1350 and 1400, as was the fourth, a two-storey mansion which was the residence of the despot. The fifth building (1400-1450) was the palace of the Paleologoi. Its length is 38 m. and its width 12 m. The first storey was intended for the departments of the Seigniory. The second was the throne hall. The abandoned palaces constitute an important attraction for the modern visitor. After their restoration, they are a vivid reminder of an era that has left an indelible mark on history. As is the grand square before them, the site of official displays during the days of Mistras' glory and a market in later years, when the town was a busy commercial centre.


Tel: +30 27310 83377

To read more, please visit thegreektravel.com