Hiking Ancient Trails In The Vikos Gorge
by XpatAthens
Wednesday, 18 February 2015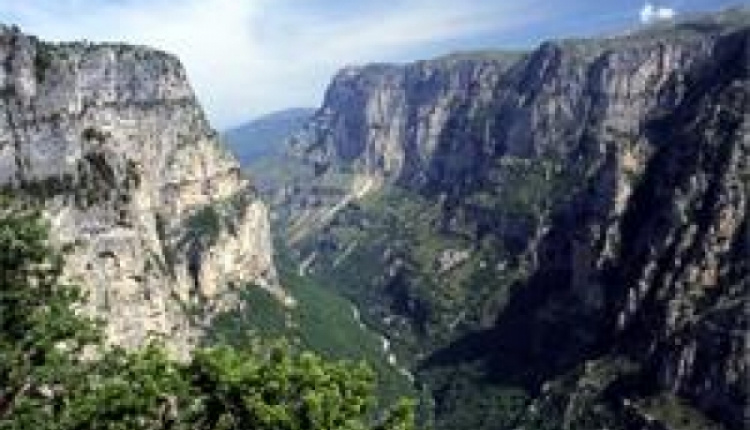 In the mountains of Zagoria villages you can hike through the deepest gorge in the world in Vikos-Aoos National Park, wander the cobbled streets of tiny rural communities with their preserved old mansions in the unique Zagorian style. Follow ancient tracks you can discover elegant stone bridges and refresh the clear rivers of Zagoria.
The Vikos Gorge lies in the North Pindus Mountains in the historic area of Epirus, 30 kilometers north of Ioannina and 38 kilometers from the Albanian border. The area, called the Zagori, has 44 villages called the Zagorohoria. The 12-kilometer gorge itself can be hiked in two or three parts: Monodendri north to Vikos; Vikos to Papingo, and Monodendri south to Kipi and its lovely arched stone bridges.

Part of the pleasure of hiking the gorge comes from the long journey to get there. A car trip from Athens to Ioannina takes 7 hours with an advised overnight in Ioannina to enjoy this lakeside town with its Ottoman-flavored bazaar and inexpensive eateries rimming the lake. After Ioannina, it's only 16 kilometers to the first villages of the Zagori. The mountain road is steep, narrow, and winding. Local drivers tear around hairpin curves leaving little space for oncoming traffic.
By bus from Athens, the journey requires calculation to connect with the smaller buses to the Zagori. Long-distance (KTEL) buses leave Athens Bus Terminal A (Kifissou Street) nearly every hour starting at 6:00. The trip is approximately 7 hours with a spectacular crossing of the new bridge at Rio. Buses can be packed with Albanians making bus connections in Ioannina for the Albanian border so arrive at the station early if you need to make a connecting bus to the Zagori.

Two bus services leave Ioannina for the Zagori. One goes to Monodendri and villages near the south end of the gorge, leaving Ioannina at 6:15 and 16:15. The second goes to Mikro Papingo and Megalo Papingo and the villages near the north end of the gorge, Monday, Wednesday and Friday at 5:15 and 14:30.

The village of Monodendri, on the rim of the gorge near the south end, is a good spot for those who want to hike the entire gorge as well as view the famous stone arched bridges over the river below the gorge. Nearby Vitsa is also good for hiking the gorge, although it's a distance to reach the entrance to the gorge.

The villages of Mikro Papingo and Megalo Papingo, at the north end of the gorge, are better suited for hikers who want to hike the gorge as well as east into the Gamilla range.

The challenge of hiking the Vikos Gorge is how to return to your point of origin. The long, winding gorge and its deep side ravines separate villages from each other. It can take hours to drive to a village that is visible across the gorge. Local buses make twice a day flying stops in the village squares with one service connecting the villages near Papingo and the other connecting the villages near Monodendri.

Source: Hiking in Greece