A Magical Journey Through Diros Caves
by XpatAthens
Wednesday, 18 February 2015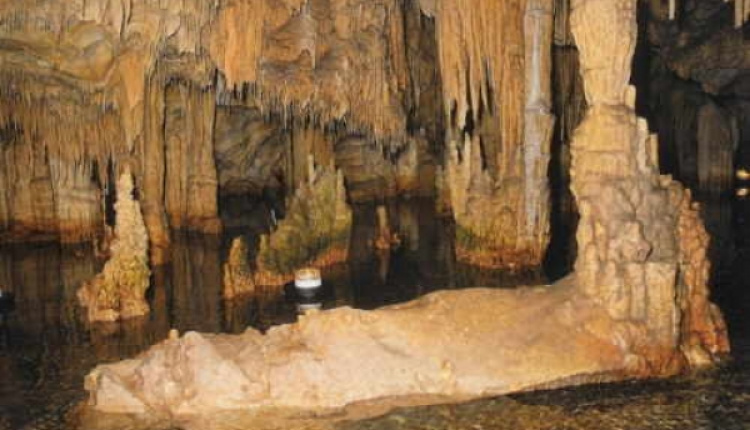 Diros Caves are the best wet caves in the world - one of the best gifts nature could possibly give us. This destination offers a guided tour into the bowels of the earth and is definitely not to be missed, especially not by children.
In Diros Caves you will see an underground river split up into labyrinthine watery passageways running more or less side by side among the stalactites and stalagmites created over the aeons by drop after drop of water containing calcium carbonate. The multi-coloured crystalline caverns of exceptional beauty in this 33,400-square-metre cave are reflected in the still water of the river, creating an underground paradise.
The Crossroads of Nymphs with the little white bear, the Lake of Exotic Ocean Creatures with the stone forest and incredible little haystack, the Sea of Shipwrecks complete with a sunken shipwreck, the Golden Rain, the passage through the church with chandelier and pulpit, the Suspended Fairy Beds, the Diros Chamber where there are ancient Greek mantles, the Pink Chamber and the White Chamber where there is a harp and a Royal Balcony, and the lovely Red Chamber are just some of the unparalleled wonders that nature took thousands of years to create so that we could marvel at her majesty and our own insignificance.

There are three caves at Diros, but only one is open to visitors and that is Vlyhada cave (Glyfada by another name). Tours of the wet part of the cave are conducted in small boats, safe for adults and children and last approximately thirty minutes. The temperature of the water is 14 degrees Celsius and that of the air 19 degrees Celsius whatever the season. The fossilised bones of a panther, a hippopotamus and a lion tell a tale of a different sort of life here. Finds indicate that the Diros Caves have been used as living space and storage space, as a home-industry workshop, a burial site and a place of worship. The many significant finds exhibited in the Neolithic Museum will complete your picture of the Neolithic Age.
Carved out of the limestone by the slow-moving underground river Vlychada on its way to the sea, the vast Diros Caves—the two main caves, Glyfada and Alepotrypa—were places of worship in Paleolithic and Neolithic times, and were believed to be entrances to the underworld by the ancient Greeks, and served as hiding places millennia later for Resistance fighters during World War II. Today they are one of Greece's more popular natural attractions, and a visit is an entertaining and surreal experience.

Climb aboard a boat for a 25-minute tour of Glyfada's grottoes—with formations of luminous pink, white, yellow, and red stalagmites and stalactites that resemble buildings and mythical beasts. The cave system is believed to be at least 70 km (43 mi) long, with more than 2,800 waterways, perhaps extending as far as Sparta. At the end of the tour you walk for several hundred yards (about a fifth of a mile) before emerging onto a path above the crashing surf. The close quarters in the passageways are not for the claustrophobic, and even in summer the caves are chilly. During high season you may wait up to two hours for a boat, so plan to arrive early. In low season you may have to wait until enough people arrive to fill up a boat. Opening hours change frequently.

More Information

Address: Along southern coast, 5 km (3 mi) west of Areopolis-Vathia Rd., Pirgos Dirou, Pirgos Diros Caves, 23062
Phone: 27330/52222
Cost: €15
Hours: Nov.-Mar., daily 8:30-15:00
Apr.-Oct., daily 8:30-17:30

Source: Fodors.com