Lindos: A Magnificent Acropolis On An Imposing Rock
by XpatAthens
Wednesday, 18 February 2015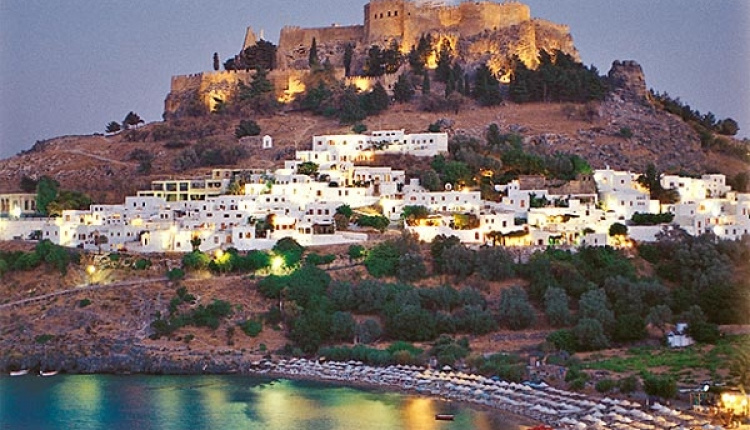 Nestling at the foot of a steep rock and beautifully surrounded by the sea lies the traditional settlement of Líndos; on the top of the same rock stands a centuries-old acropolis, proudly overlooking the archipelagos. The acropolis bears silent witness to Líndos' glorious past, a major naval power of ancient times which reputedly had a population of 17,000. The landscape of Líndos encapsulates the essence of Rhodes: a surprisingly felicitous blend of ancient and medieval! With 600,000 visitors annually, Líndos competes with Delphi as the second most visited archeological site in Greece. Enjoy it!
Brief history:

According to tradition the temple of Athena on the acropolis was founded by Danaus, who came to the island with his 50 daughters to escape the rage of the goddess Hera. Follow the same ancient path that the ancient Rhodians took. When you reach the acropolis you will see a 280 BC relief of a Rhodian Trireme (ancient Greek warship) carved into the rock, an indication of the naval power of ancient Rhodes. On the bow of the Trireme stood a statue of General Agesander, sculpted by Pythokritos. Did you know that the first naval code, the famous "Rhodian Naval Code", a code of international law and one of the most important legal documents in the world was written here in Rhodes? The emperor Antonio wrote of the Rhodian Naval Code: We may rule the world but the Rhodian Code rules the seas!

The tour begins!

Through an ancient old gate you enter the world of the magnificent acropolis; on the first level you can see more recent buildings like the 1317 Castle of the Knights of St John, which was built on the foundations of an older Byzantine fortification. There is also the Greek Orthodox Church of St John, built on the ruins of an older church. The Knights significantly strengthened the fortifications of the acropolis, turning Líndos into a powerful fortified castle. On the second level to the south you can marvel at the remains of the 300 BC Doric Temple of Athena Lindia, which was built on the site of an earlier temple. At the entrance to the acropolis there is a Hellenistic stoa (covered walkway) where vaulted constructions that were once underground water storage tanks are still visible.
A monumental staircase leads to the upper level of the sanctuary consisting of the 4th century BC buildings: the Propýlea (gateways) that were built in the same style as the Athenian Propýlea, a big peristyle open air courtyard and a small Doric temple of Athena, where the statue dedicated to the Goddess by Danaus and his daughters was situated and worshipped; from this position the sweeping views of the Aegean will take your breath away…

In the main archaeological site of Líndos, homeland of Kleovoulos, one of the seven wise men of antiquity, you can also marvel at the ancient theatre situated beneath the Temple of Athena, just as the theatre of Dionysus was situated under the Parthenon.

Enjoy a leisurely evening stroll around the picturesque settlement of Líndos.

The view of Líndos village with its cubic houses sprawling down the hillside under the acropolis is one of the most photographed scenes in Greece. The whitewashed labyrinth of little alleyways was deliberately designed to confuse pirates; today this layout makes wandering around the town a real adventure! The winding streets of the traditional well-preserved settlement of Líndos form a great backdrop to a rejuvenating evening stroll. There are picture-perfect medieval captains' residences built around votsalotó (meaning pebbly) courtyards with emblems on their heavy wooden doorways. Arched entrances adorn the streets adding a cosmopolitan flair to the settlement. Try visiting some of them and admire the stunning interiors with their impressive ceilings and the courtyards paved with votsalotó (pebbles): it feels like you are in a folk museum! Don't miss the opportunity to visit the Virgin Mary of Líndos church in the centre of the village which is full of 15th century frescoes.

Complete your tour with a visit to two famous architectural monuments of ancient Líndos: Kleovoulos Tomb, which actually had nothing to do with Kleovoulos but was the funerary monument of a rich Lindian family, and the Archokrateio, a Hellenistic burial site of the Archokratides family carved into the rock. In the interior, a corridor used to lead to an area where burial ceremonies were performed.

Source: Visitgreece.gr