Vlassis Restaurant
by XpatAthens
Monday, 16 February 2015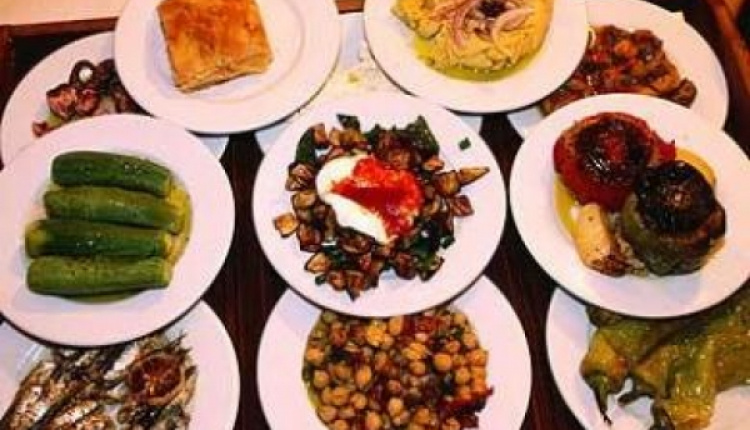 The balance of rustic and refined notes at Vlassis reminds me of the fetching equilibrium Vassilenas achieves. The understated décor is also vaguely contemporary, and Vlassis has a similarly lulling effect. Although it is in a busy part of Athens, it is protected behind a wall of shrubbery that gives it a cloistered feel. On the night we went, there were more than a dozen small plates to choose from, and slightly fewer entrees. Most of the starters, which the Greeks call mezedes, are brought to the table on an enormous tray for visual inspection. There was a divine, lemony stuffed cabbage with béchamel; a kind of chopped fried zucchini, not breaded, that had the opulent feel of sautéed mushrooms; a pool of luscious sheep's milk yogurt with a tomato sauce like a thin, fiery ketchup in the center; and something our served called "spicy cheese," which was like a creamy feta flecked with hot cooked green peppers, and was out of this world.
We gorged so happily on these mezedes that we couldn't summon much enthusiasm for our entrees, which warranted at least a bit of it. A simply grilled red snapper had tender flesh; baked chicken fulfilled its prosaic obligations.

Come dessert Vlassis looked beyond the national borders, serving us a panna cotta reminiscent of Italy and a cheesecake evocative of nowhere and everywhere. I could excuse the digression. It was the last act of our final meal, and we'd had our contented fill of Greece.
Vlassis, Maiandrou 15, Athens; (30-210) 7256335. Dinner for two, with wine, is 85 euros.


nytimes.com
Do you have a recommendation or recipe to share? Send it to us at ideas@xpatathens.com!