Welcome to Pandeli Restaurant in Kifissia
by XpatAthens
Monday, 16 February 2015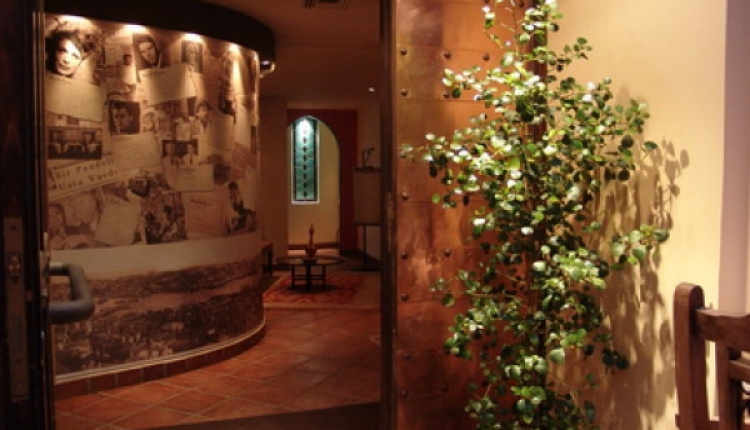 Pandelis Tsobanoglou, an intelligent and working Greek of Minor Asia, fascinated with tastes and flavours, was meant to be identified with the finest of oriental cuisine. In 1901 he opened his fist cook shop in the Fishmarket of Istanbul. The small shop bubbles over by the exuberant personality of Pandelis. Eating at becomes a favour for everyone very soon. Governors and men of letters, politicians, journalists and artists are huddled into his next tiny restaurant. Ataturk used to have lunch there whenever he was in town and in 1933 Prime Minister of Greece El. Venizelos honoured their friendship by giving Pandelis his golden cigarette-case. became very famous all over the world and was visited as well as by Kings. Pandelis clinked glasses a great number of times with famous or gourmet people, but mostly with friends. "My friends and the pleasure I offer them mean the whole world to me" he used to say.
In 1955 the restaurant moves to its present place, next the entrance of Spice Market overlooking Galata Bridge, the Goldenhorn and Bosphorus. The old chef is hereafter supported by his son Christos Tsobanoglou who has undertaken the overall responsibility since 1967.
Pandeli's cuisine constitutes the highlight of the local gastronomy for the 20th century and its ingenuity acquires universal appreciation.
In 2003 Christos Tsobanoglou and his children Paris and Sofia have opened the restaurant in Athens at Kefalari Kifisia and have brought the quality in oriental cuisine as well in Greece.
Nobody has over doubted that at restaurants one will taste the best choice of the food market, cooked the unique way- the Pandeli's way by using the best and freshest ingredients.

Pandeli was recently (2004) been awarded from the Chaine de Rotisseurs of Greece. Also, The most of the foreign tourist guides mention restaurant as the number one choice (e.g. the French "Les Guides bleus").

Istanbul: Misir Carsisi No.1, Eminonu, Istanbul, Turkey, tel. 0212 522 55 34
Athens: Pentelis 3, 14562 Kfisia, Athens, tel. +30 210 80 80 787

Address:
PANDELI RESTAURANT
3, Pentelis str., 145 62
Kifissia, Athens

Telephone: +30210 8080787
Do you have a recommendation or recipe to share? Send it to us at ideas@xpatathens.com!