The Best Spots For Food & Coffee In Koukaki
by XpatAthens
Saturday, 26 March 2016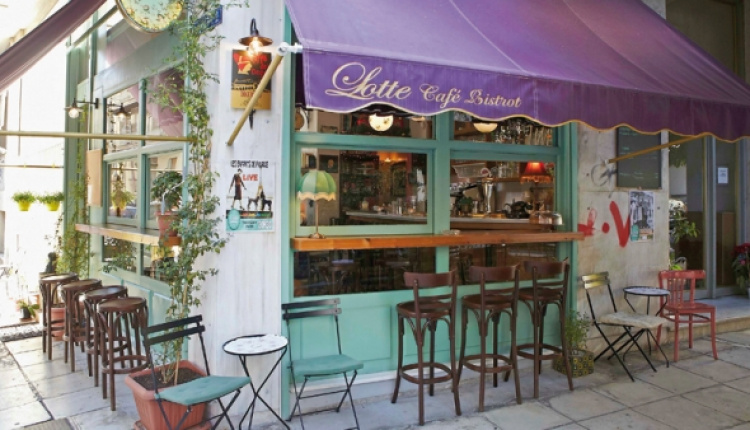 The hip central Athens district of Koukaki was recently voted among the
top 10 must-visit up-and-coming global neighbourhoods
, and for good reason! Not only is this area located just steps from the enchanting historic centre of Athens, it sits in the shadow of the magnificant Acropolis.
Koukaki has always been a popular neighbourhood in Athens, but recent additions to the area have made it that much more attractive to locals and visitors alike. Here are some of the area's best picks for food and coffee that will surely have you returning for more!

The Fabrica Of Euphrosinos
Address: An. Zini 34, 117 41
Price per person: € 20-25
Hours: Weekdays: 11.00-23.00, Friday-Saturday: 11.00-1.00

This new hot spot is a real food factory by George Gatsos who studied theology in Belgrade and passed through the kitchens of Mount Athos as a student. Gatsos' love for the authentic comes through in atmosphere and flavors. The decor is simple, by Serbian artist Gora, the food is delicious the wine selection unique from various small producers. The name of the restaurant is a dedication to Saint Euphrosinos, the patron saint of cooks. Euphrosinos is a busy spot so don't be suprised if it's full even if you visit mid week.
Garyfallo-Kanella
Address: Zan Moreas 28 & Falirou 84, 117 41
Price per person: € 10
Hours: Weekdays: 11.00-18.00, Friday - Saturday until late.

In the kitchen at Garyfallo-Kanella you'll find Dimos and his mother. The menu consists of homemade traditional Greek mezedes dishes and the bread is also made in-house. On Fridays and Saturdays they're open late and serve traditional dishes from Asia Minor. Prices are great and they offer a delivery service within central Athens.


ManiMani
Address: Makriyianni 10 & Falirou, 117 42
Price per person: € 22 - 25
Hours: Open daily and on weekends - closed on Sunday night.

This restaurant made Mani sausage with 'siglino' (celery) fashionable and with a 10 year history, its cuisine honors the traditions of its southern Greek origin. Fava, village hot dogs, giouvetsi (beef in tomato sauce) and pork with spinach all have an interesting twist from chef Alexandros Foroulis. It's location is perfect and offers a quiet oasis from the bustle of the city. Prices are at mid-range restaurant level and they also offer half portions at half the price too!


Valparaiso
Address: G. Olympiou 7, 117 41
Price per person: € 10
Hours: Daily from 10.00-3.00

Located on the pedestrian walkway of Olympiou, this local gathers many people! Port Valparaiso in Chile was the inspiration for the name. The excellent design, great cocktails and amazing coffees of rare varieties all come together perfectly.

Pagaki
Address: Olympou 17, 117 41
Price per person: 10€
Hours: Daily from 11.00-00.00

Pagaki, meaning bench in English, is a collective-urban partnership where everyone works for everyone. The food options are few and excellent, including anchovies, beans, lemon flavored pork lemon and are all € 4 or less. Wi-fi is free and Pagaki is one of the few spots with excellent access for the disabled.

Lotte
Address: Tsami Karatasou 2, 117 42
Price per person: 10€
Hours: Daily from early in the morning

Lotte reminds you of a cfe that you'd find in Monmarte. It's small, vintage, and if you close your eyes you get the feeling that you're in mum's living room; the tiles are from the Municipal Theatre of Piraeus before it was remodelled. It's the perfect spot for a cup of tea and some hand made cakes!

Guarantee
Address: Veikou 41, 117 42
Price per person: 10€
Hours: Daily from 10.00-17.00

A gourmet sandwich spot that made sandwiches fashionable, Guarantee is celebrating 27 years of service. After this many years its inevitable to have a number of fans who love their famous cold cuts, roast beef and fluffy buns. Make a sandwich of your choice and combine it with a yummy fresh juice.