Philoxenia: The Ancient Roots Of Greek Hospitality
by XpatAthens
Monday, 11 October 2021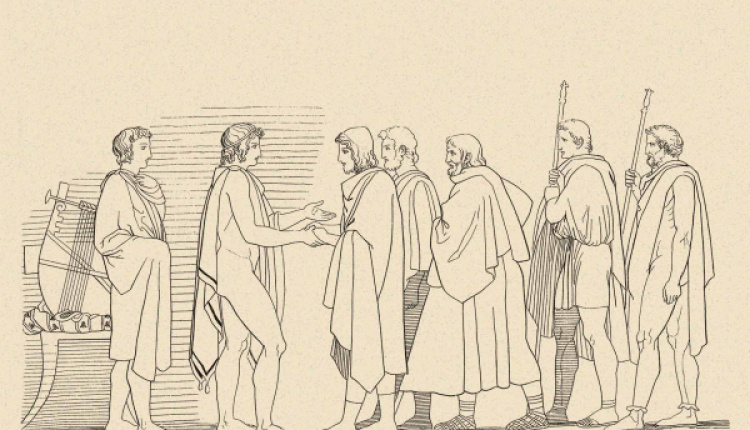 The Greek word Philoxenia, literally translated as a "friend to a stranger," is widely perceived to be synonymous with hospitality.


For Greeks, it is much deeper than that. It is an unspoken cultural law that shows generosity and courtesy to strangers.


Greeks are enormously generous when inviting others to their home, or being invited themselves. In villages, it is not uncommon for villagers to show up at the door of a resident foreigner (or even a temporary visitor renting a room) with a sack full of fresh tomatoes, or even a bottle of local olive oil.


Philoxenia today can be as simple as a smile, helping a stranded motorist, buying a meal for a homeless person, or opening your home to friends and family.


Zeus Xenios
This cultural law has its origins in Ancient Greece. The ancient Greek god Zeus is sometimes called Zeus Xenios — as he was also a protector of travelers. He thus embodied the religious obligation to be hospitable to travelers.


The beautiful story written by the Roman poet Ovid in 8 A.D of Zeus and Hermes disguised as poor travelers, narrates the sacred relation between host and guest, embodying the ancient Greek tradition.


The two ancient Greek Gods, the story goes, visited many villages in search of refuge for the night. A poor elderly couple — Baucis and Philemon welcomed them as guests in their home and generously served them food and wine.


After refilling her guests' cups many times over, Baucis noticed that the wine jug was still full. Philemon then realized the visitors were actually gods and she offered to kill their only goose to feed them. Touched by this gesture, Zeus rewarded their generosity by transforming the humble cottage into a beautiful stone temple.


Zeus also granted the couple their ultimate wish: to be the guardians of the temple, die at the same time, and stay together for eternity as they were turned into trees, guarding each side of the temple's door.


Trojan War


According to legend, even an event as momentous as the Trojan War began because of a guest's violation of xenia. The Trojan prince Paris was a guest of King Menelaus of Sparta when he abducted Menelaus' wife, Helen.


Both the Odyssey and the Iliad are filled with episodes in which xenia is either honored or ignored and the subsequent consequences are notable. For instance, when Odysseus sails to the island of the cyclops, the monster's treatment of Odysseus and his sailors is a violation of the custom of xenia. The cyclops are punished for the transgression. Odysseus blinds his "host" and escapes. The cyclops episode depicts an abuse of xenia.


In another story, Odysseus' wife Penelope is forced by custom to entertain an entire household of suitors. The guests not only make unreasonable, burdensome requests that were impolite for guests but they do so with the assumption the host himself is no longer alive. The conclusion of the poem involves Odysseus's slaughter of the suitors. This violent ending can be seen as retribution for egregious abuse of xenia, or conversely, a violation of its very precepts.
To read this article in full, please visit:
greekreporter.com