Greek Modern Art - Yannis Moralis
by XpatAthens
Friday, 18 June 2021
Do you like modern and contemporary art? Then for sure, Athens, featuring numerous galleries and fabulous museums where you can enjoy modern art, is the place to be!


Greece might be known for its ancient Greek culture, statues, ceramics, and temples, but is also a country where you can see a lot of modern art and contemporary architecture, as well as visit museums covering the living artists or those numerous famous Greek names and talented artists of the 20th century. With that said, let's introduce you to a very known Greek painter and one of Greece's leading 20th-century artists, Yιannis Moralis, whose paintings can be found in public and private collections in Greece, as well as abroad.


Who Was Yιannis Moralis?

Ηe was born in the town of Arta in 1916, but lived in Preveza from 1922-1927, due to the fact that his father served as Principal at High School of Preveza. He moved to Athens with his parents in 1927. From the age of 15, he studied at the Athens School of Fine Arts, from where he graduated in 1936. The following year he won a scholarship from the Athens Academy and left for Rome.


Moralis would stay in Italy until November 1937 and then moved to Paris where he studied at École Nationale des Beaux-Arts. At the same time, he registered in École des Arts et Metiers, to master mosaic. With the declaration of World War II, however, he returned to Greece hurriedly.


In 1940 he exhibited a series of engravings with the group "Free Artists" in Piraeus. In the same year, he assigned to the army and served his term while participating in the last pre-war Pan-Hellenic Exhibition in Zappeion, where he also received the bronze medal.


In 1954, he began his collaboration with the Theater of Art of Karolos Koun, and later on, he also collaborated with the National Theater. In 1958, together with Yiannis Tsarouchis and sculptor Antonis Soutsos, he represented Greece at the Venice Biennale.


If you want to learn more facts about Yannis Moralis and see pictures from his solo exhibit in the Benaki Museum please visit:
masaresi.com
---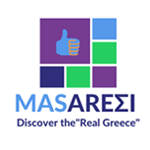 About MASARESI
Masaresi.com
was founded by Maya Cornelissens-Andreadi, who shares her experience about how "to integrate in Greece and feel like a local". Masaresi = μας αρέσει = we like it!
Discover the "real Greece," while delving into all the aspects of Greek life – from modern lifestyle and culture to history, literature, traditions, and many more.

Explore Greece - Read About Greece - Buy Greek - Learn Greek