The Evolution of Greek Music In A Single Video
by XpatAthens
Tuesday, 20 April 2021
Contemporary Greek music has a deep history that expands over 100+ years. This "A Capella compilation", an idea of the Greek artist Nikolas Raptakis and his friends, includes bits and bobs of many different hit songs, one after the other and brilliantly shows how Greek music has changed over the decades.


1910 – 1920 – 1930


The journey through the history of Greek music starts with rebetiko and the traditional. Rebetiko originated from the music of large, mainly coastal cities of Asia Minor, where big Greek communities lived and prospered during the Ottoman era. It is closely related to nightlife entertainment – ouzeries and tavernas.


1940-50


Another song by Markos Vamvakaris leads us into the 40s. In the 1950s, rebetiko started changing and giving its place to a new-ish genre, laïkó. Chiotis created the idea of entertainment venues the way people understood them in Greece in the decades to follow. He is also considered one of the best bouzouki players of all times.


Towards the end of the 50s, a new music genre appears in Greece, which is called entechno – orchestral music with elements from Greek folk rhythm and melody. The lyrics of the songs are often poems written by Greek poets, to which significant composers like Mikis Theodorakis and Manos Hatzidakis are adding music.


1960-1970-1980

Greek cinema bloomed in the 60s and so did Greek music since many movies had music and dance sequences like modern musicals. It is thus no coincidence that this part of the videos starts with Ipomoni and Tosa Kalokairia, which are both from Greek movies of that time.


The music of that era, especially from the 1970s onwards, carries a lot of optimism, enthusiasm, and some hippie vibes.
To read more and learn some Greek music history please visit:
masaresi.com
---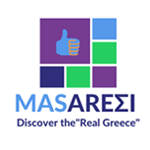 About MASARESI
Masaresi.com was founded by Maya Cornelissens-Andreadi, who shares her experience about how "to integrate in Greece and feel like a local". Masaresi = μας αρέσει = we like it! Discover the "real Greece," while delving into all the aspects of Greek life – from modern lifestyle and culture to history, literature, traditions, and many more.

Explore Greece - Read About Greece - Buy Greek - Learn Greek