Halkidiki - An Ideal Family Holiday Destination
by XpatAthens
Thursday, 16 May 2019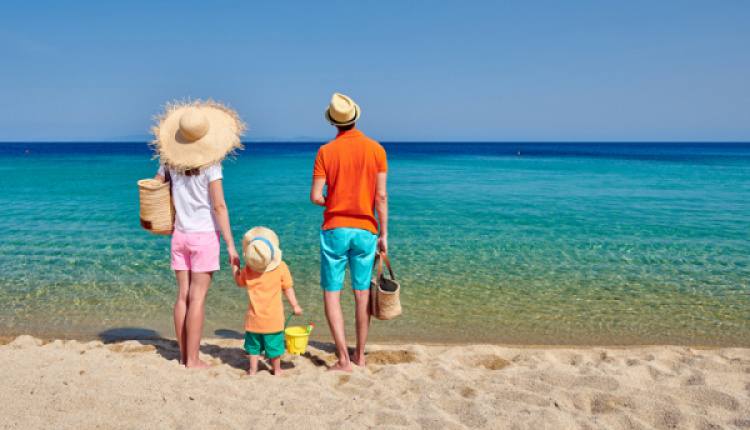 Chryssa Skodra, a Greek expatriate in frozen Finland, recounts her family vacations in Halkidiki and shares the highlights of her trips on the
Discover Greece Blog.
Halkidiki is a dream destination that perfectly balances an ideal combination of stunning landscapes, unspoiled nature,
gastronomy
, wellness, culture, and tradition. Funnily enough, Halkidiki is not an island; it's a region on the mainland near Thessaloniki with three fjord-like peninsulas (Greeks call them 'legs') that from a coastline of about 500km.
In the summer of 2014, Chryssa and her partner spent their engagement honeymoon in Halkidiki and two summers later they brought their 7-month-old baby. Year after year her family was seduced by Halkidiki's emerald beaches with crystal clear waters, family-friendly resorts and mouth-watering local cuisine. Anyone making their first holiday-with-baby should opt for a destination as stress-free and child-friendly as possible with all the necessary amenities and proximity to medical centres. Halkidiki ticks all the boxes!
Halkidiki's beaches are endless; actually, it is pretty safe to say that there is a beach for everyone! There are cosmopolitan beaches, and deserted coves, there are beaches where the party never ends, and of course, there are quiet shores with soft sand and shallow water ideal for the kids.
With the summer just around the corner and with its growing popularity, now is the perfect time to start planning your family summer escape to Halkidiki. You will fall in love with the sunset, taste fantastic food, enjoy excellent service in one of Halkidiki's family-friendly resorts, and swim in some of Greece's most
immaculate beaches
. Visit Halkidiki once, and you'll undoubtedly be coming back for more!
To read this article in full, please visit: Discover Greece