Odd But True: Tennessee Has Its Own Full Scale Replica Of the Parthenon
by XpatAthens
Tuesday, 08 January 2019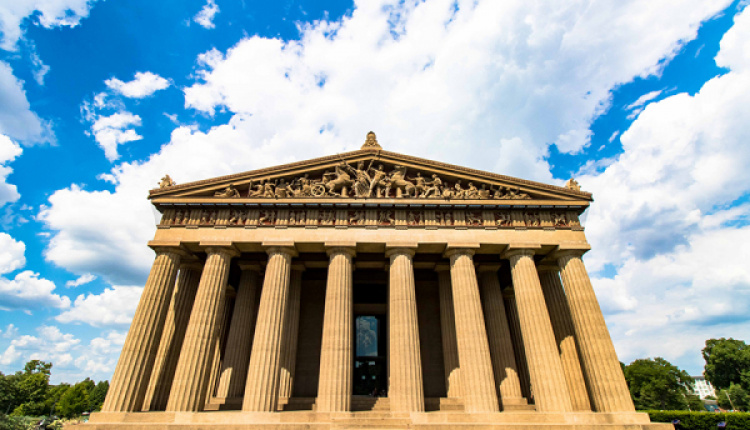 Living in country that's less than 250 years old, it's understandable that some Americans decided to import a little extra history from abroad. There is a faux-Venice in Las Vegas, a Stonehenge II in Texas, and a replica of the
Athens Parthenon
in Nashville, Tennessee.
Tennessee's full-scale replica of the Parthenon was created in 1897 for the Centennial Exposition in Tennessee. The recreated 'Parthenon' served as the exposition's art gallery and intended to amplify the city's self-declared reputation as the 'Athens of the South.'
Even though the Nashville 'Parthenon' was intended to be a temporary structure, by the time the fair ended, the unique structure had grown on the local population. Over the years the building underwent major restorations and still stands proud amidst a large public park.
Finally, in 1990 a 42-foot-tall replica of the statue of Athena was unveiled. While the replica appears opulent, concessions were made: The original was coated in over 2,400 pounds of gold leaf, whereas Nashville's version boasts just eight pounds.
Despite intricate attention to detail, there are some major differences between the original Parthenon and the one in Tennessee. The Athens Parthenon, the most prominent landmark in Athens, is built on a
hill
and can only be approached from behind; the replica in Nashville is situated in a park and can be entered from the side or front. Also, each structure's building materials differ significantly; the original was built from gleaming marble while the Nashville version is made of concrete.
Compared to the ancient ruins in Greece, the Nashville 'Parthenon' boasts a major historical detail: color. Along with other parts of the building, the massive Athena statue is painted in bright colors. It's a bit odd-looking by contemporary standards, given that people are used to the inaccurate notion that ancient buildings and statues were dominated by a simple, unadorned white marble aesthetic. In fact, the ancient Greeks painted all of their statues and seeing them painted in bright colors is actually more historically accurate.
Even though it's odd to think of a
Parthenon
outside of Athens, especially such a new and shiny version of the original masterpiece, the 'Parthenon' in Nashville has definitely become a vital part of the city's landscape and heritage.
To read this article in full, please visit:
Artsy.net