Greek Bougatsa Recipe
by XpatAthens
Tuesday, 10 October 2023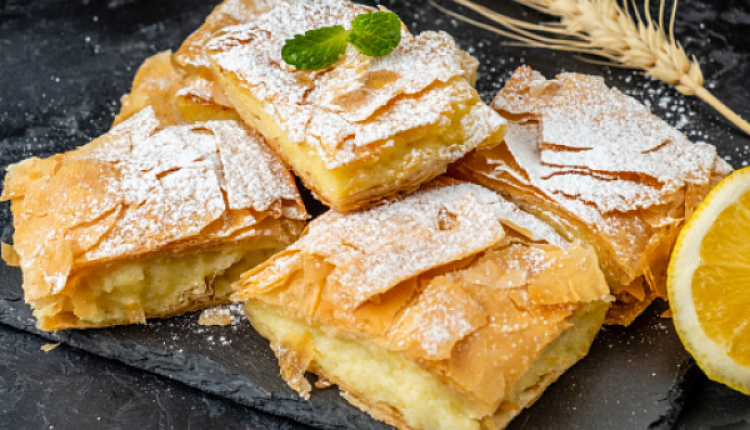 Golden and creamy perfection! Bougatsa (Greek custard pie with phyllo) is a traditional Greek dessert made with the most creamy custard wrapped in golden brown crispy phyllo, sprinkled with melted butter, and garnished with icing sugar and cinnamon. Simply amazing! A traditional Greek dish, perfect for every time of the day, as a delicious snack or a filling dessert.
The key to making the most flavourful Greek Bougatsa is to use good quality fresh butter to butter the phyllo sheets. The authentic Greek Bougatsa recipe calls for 'galaktos' butter made from cow's milk, which has a rich flavor and amazing smell!
Working with phyllo can be tricky as it's brittle and can dry out very quickly. Don't forget to brush the top of the bougatsa with enough butter and scar with a knife to help release the steam.
Try out this delicious traditional Greek bougatsa recipe and amaze your friends and family with this crispy and velvety delight. Enjoy!
Total Time:
1 hour 20 minutes
Yield:
8-10 portions
Ingredients
For the bougatsa
400–450 g phyllo dough
200 g butter, melted
200 g sugar
1 kg milk
120 g all-purpose flour
4 eggs
1 tsp vanilla extract
For the topping
ground cinnamon
icing sugar
Instructions
To make this traditional bougatsa recipe, start by making the filling. To prepare the filling for the bougatsa add in a large bowl the sugar, eggs, and flour; whisk until the ingredients combine.
Pour into a saucepan the milk and the vanilla extract and bring to a boil. Right before the milk comes to a boil, pour 1/3 of the milk & vanilla extract mix into the flour mixture from step 1 and stir.
Turn the heat down. Add the flour & milk mixture into the saucepan with the remaining warm milk. Whisk very quickly, until the mixture has thickened and is smooth and creamy. Do not remove the pan from the stove while whisking. This should take 2-3 minutes.
Remove the pan from the stove and stir occasionally to keep the custard from forming a skin on top, while you prepare the rest of the bougatsa recipe.
For this bougatsa recipe, you will need a large baking tray, approx. 20×30 cm / 8×12 inch. Using a pastry brush, butter the bottom and sides of the tray.
Unroll the phyllo dough from the plastic sleeve. To make this bougatsa recipe you will need 10-12 phyllo sheets. Use 5-6 sheets of phyllo for the bottom of the bougatsa and 4-5 sheets for the top.
To read this article in full and find out useful tips for a delicious bougatsa, please visit:
mygreekdish.com