Watermelon Granita - The Perfect Drink To Survive The Heatwave
by XpatAthens
Thursday, 13 July 2023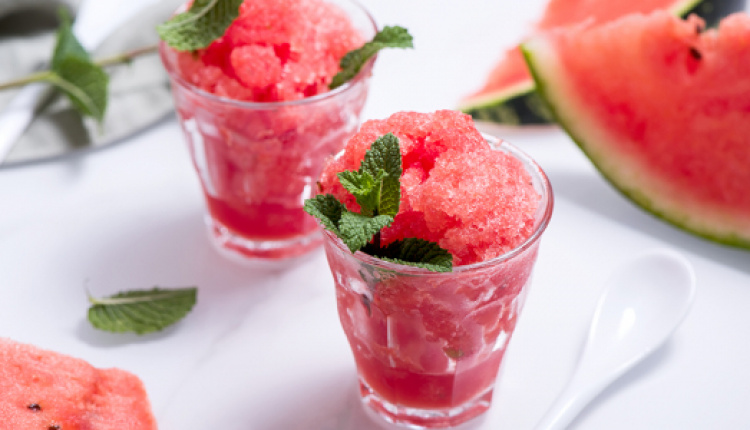 Originally from Sicily, granita is a semi-frozen dessert with crystalline texture, made from sugar, water, and various flavorings, mainly fruit juices. It's extremely popular all around Greece, especially among kids, and it's the ultimate drink to survive the Greek summer's scorching heat.





Yield: 4-6 servings
Difficulty: Easy
Prep Time: 15 minutes
Ready in: 6 hours


Ingredients:
150 g water
150 g brown sugar
800 g watermelon, cleaned
1 teaspoon(s) vanilla extract
lemon juice from 1 lemon
lemon zest from 1 lemon
sliced watermelon for decor
Preparation:
In a pot, add the water with the sugar and place it over medium heat for about 2 minutes.
As soon as it starts bubbling, let it boil for 2-3 minutes, and then remove from heat. Set the syrup aside to cool.
Cut the watermelon into 2-3 cm pieces and puree them along with the syrup, the vanilla extract, and the lemon zest and juice into a blender.
Share the mixture into ice-cube trays and freeze them for 5-6 hours.
When they freeze well and you are about to serve them, pour the ice cubes into the blender and puree them until they look like snow.
Fill the glasses and serve with watermelon slices.
To read the complete recipe and learn the nutritional information, please visit:
akispetretzikis.com