Where To Drink Ouzo Like A Local
by XpatAthens
Wednesday, 25 August 2021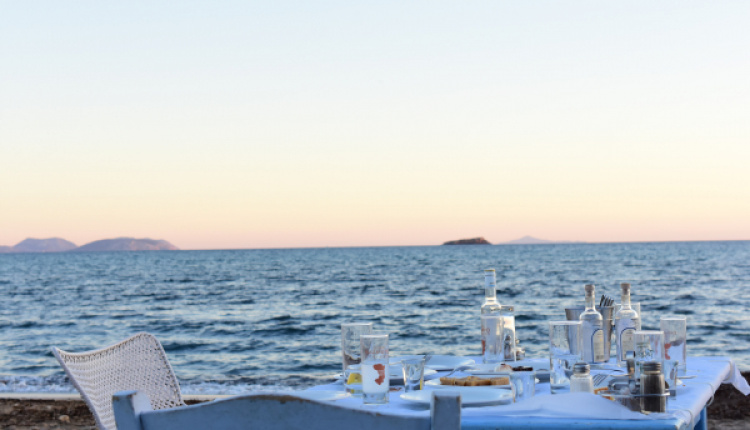 Care for an ouzaki? Like so many words in Greek, ouzo is often referred to affectionately in the diminutive, which makes it even more seductive and appealing. Just a 'little' drink, nothing pretentious or serious about it, an ouzaki can be an excuse to pause in the middle or end of a busy day for a chat with friends or a cardinal feature of a summer holiday on an Greek island. Whatever you call it, sharing a carafe or miniature bottle of ouzo is an essential Greek experience.


Around Athens you will find dozens of eateries known as mezedopolia - places that specialise in these little dishes - whose menus run to several pages. Instead of ordering a three-course meal, you can set your imagination free and make a meal of as many dishes as you can manage. Don't forget though. They are meant to be shared, not gobbled by one person. The sharing adds to the camaraderie.


Here are some of our favourite mezedopolia (also known as ouzeris) in the Athens area.


Athinaikon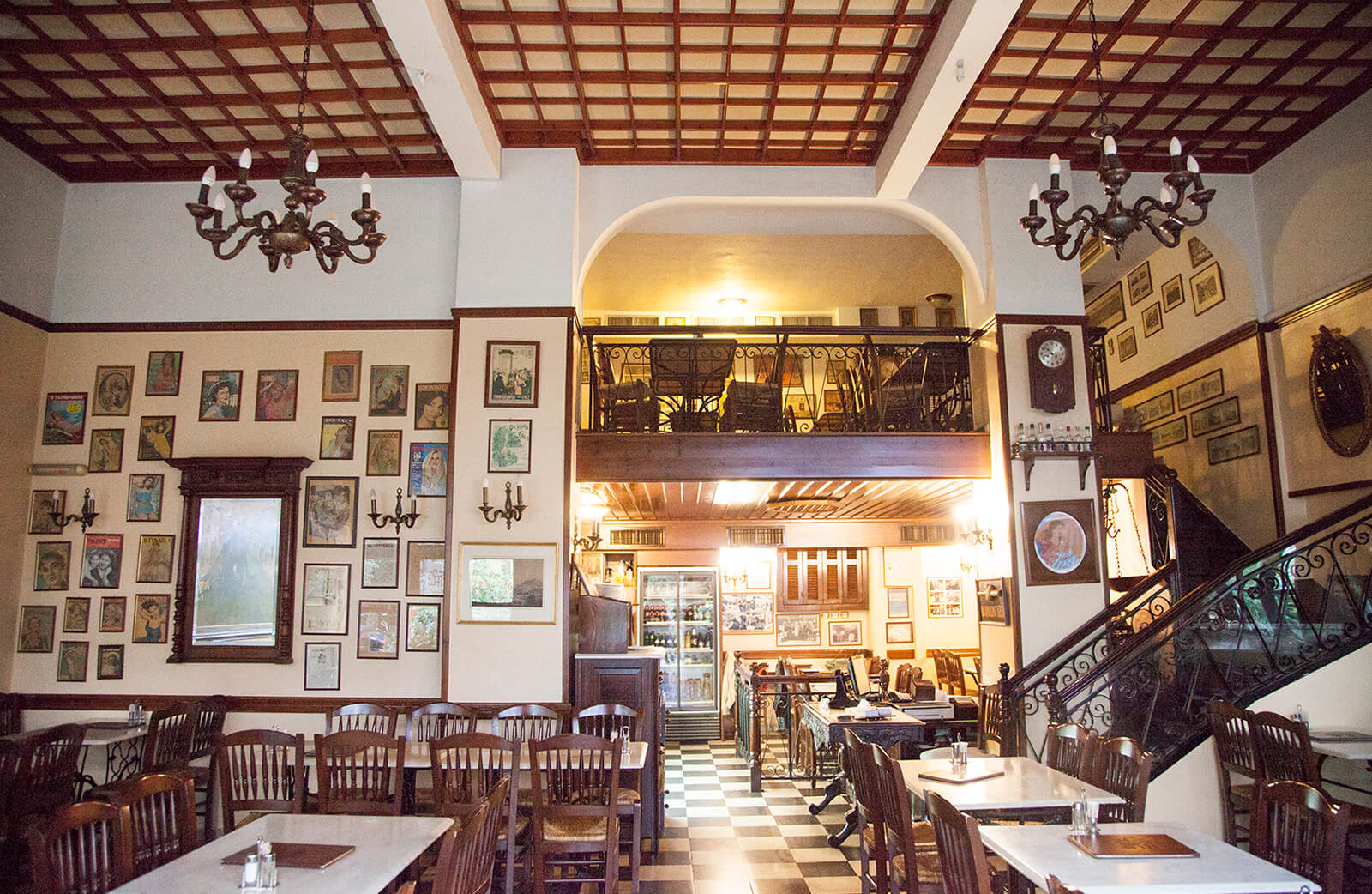 Photo Credit: Eleni Veziri
One of the oldest mezedopolia in Athens, this is a place to come for its décor alone. Although it's only been in its present location since the mid 1980s, it has the atmosphere of the original establishment which opened in 1932. Wonderful tiled floors, period photographs, a splendid painting of Athinas Street with no cars, shiny marble tables and gleaming wooden chairs create the perfect setting for browsing through its six-page, leather-bound menu. Justly famous for its seafood meze—shrimp croquettes, home-made lakerda (cured tuna), skate with garlic sauce—it also features tempting treats from Anatolia such as pita (pie) with pastourma (spicy cured beef) or saganaki (fried cheese and sausage) Constantinople-style and intriguing items like "Drunkard's delicacy". Surround yourselves with as many dishes as the table will hold and work your way through them slowly while you sip your ouzo of choice. Don't under any circumstances come here on your own.
Address:
2 Themistokleous, Omonia, Historic Centre
Telephone:
210 383 8485
To Ouzeri tou Laki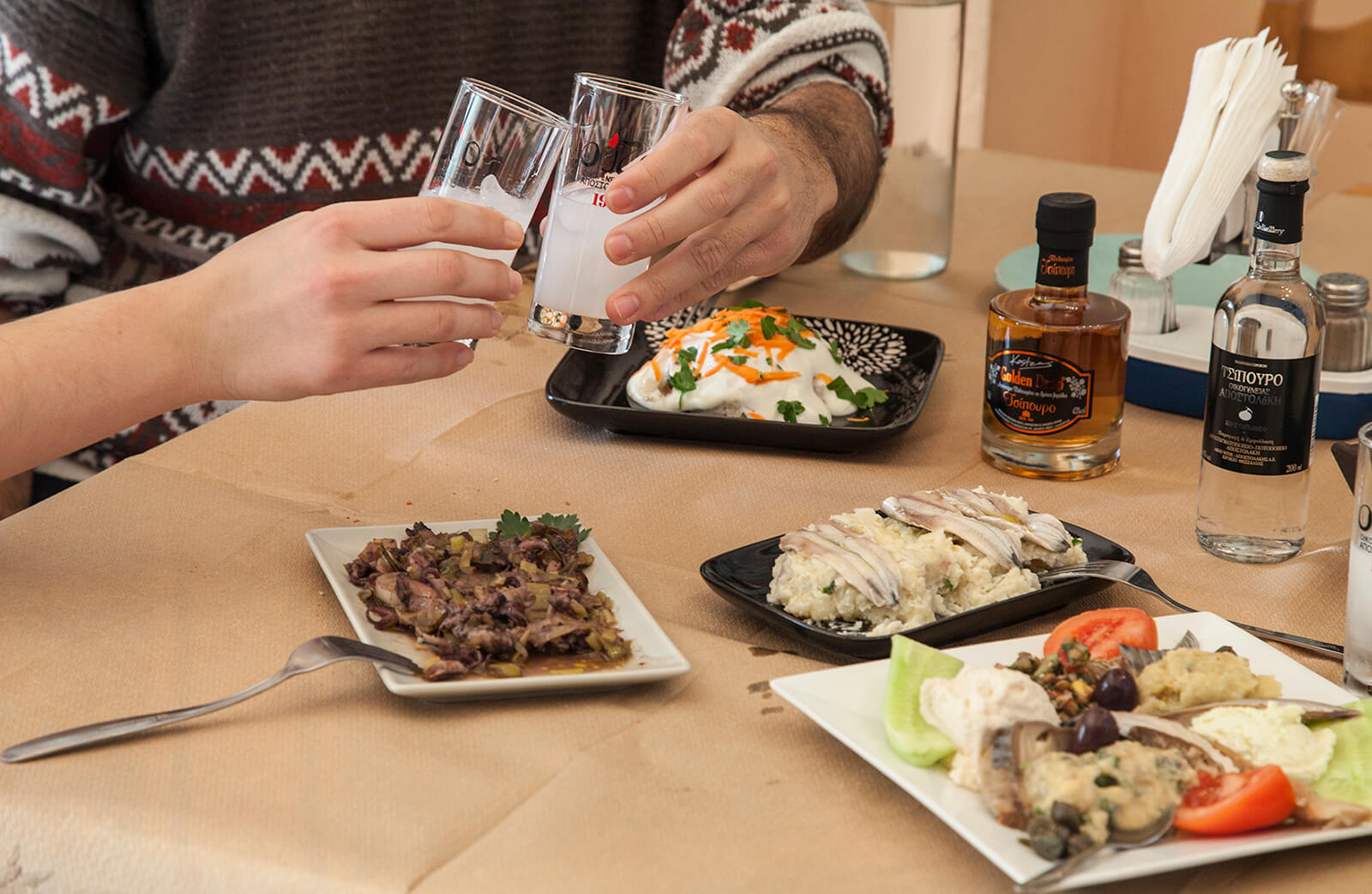 Photo Credit: Eleni Veziri
To many Greeks and foreigners, ouzo and a table of mezedes are best enjoyed by the sea, watching boats come and go. In Athens, Lakis' ouzeri is about as close as you can get to having that experience, though the surroundings are landlocked. A kaiki (fishing boat) rudder stands by the entrance, a ship's wheel hangs on one wall, nautical motifs decorate others, and the ceiling lights resemble seashells. An open refrigerator displays an exciting array of fresh fish and seafood, brought in daily from Kymi and Skyros. You can choose your own fish to complement unusual dishes such as chickpea fritters, mackerel with caramelized onions and sardine moussaka. Many customers are regulars, sipping from 16 different brands of ouzo and toasting the sign opposite the entrance: "All the world is a madhouse, but this is the headquarters."
Address:
16 Elpidos, Victoria Square
Telephone:
210 8213776
Hohlidaki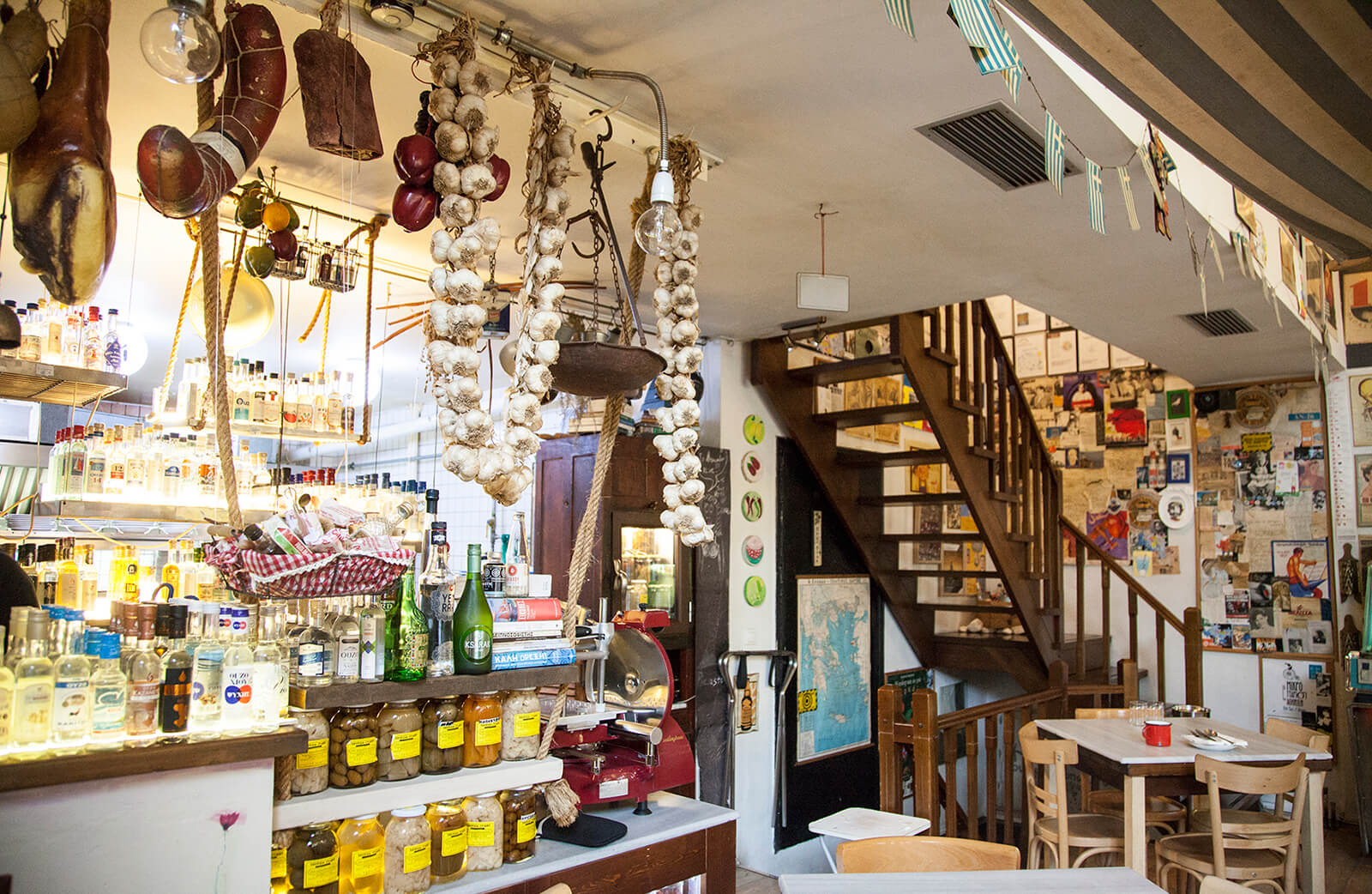 Photo Credit: Eleni Veziri
Most mezedopolia have a generous selection of ouzo brands, but Hohlidaki probably holds the record with 130 in their collection. The bottles are arranged on and above the counter that separates the cosy, funky dining area, with its vintage posters, photos and ancient (functioning) jukebox, from the kitchen. It might take a while to taste them all, but the menu offers so many appetisers, you'll find it hard to choose. Not only does this 30-year-old ouzeri serve scores of standard delicacies, it also changes its menu at least twice a year to focus on a specific region of Greece. Last time we were there, it featured dishes from the Ionian islands—lentils and eel from Lefkada, baked eggplant from Zakynthos, Corfiot sofrito, and Cephalonian meat pie. Eating here is always a gastronomic adventure, a way of exploring foods you would ordinarily have to travel extensively to savour.
Address:
31 Adrianiou, Neo Psychiko
Telephone:
210 674 6661
To read this article in full, please visit:
thisisathens.org

---
Whether you've just arrived in town – or have been here for years – Athens always has new secrets to share!
This is Athens
is the official guide to this captivating city of ancient energies and booming urban culture. Compiled by a team of specialist local writers, This is Athens brings you an authentic and intimate portrait of a living Athens beyond the guidebooks – along with daily curated listings of all the best events and great weekend inspiration all-year round. From must-know neighbourhoods and emerging art hubs, to gourmet hotspots, cool shopping and the buzziest bars, This is Athens will help you to get the most out of living in Athens!