Athens Unpacked - A Podcast Series From This Is Athens
by XpatAthens
Wednesday, 02 June 2021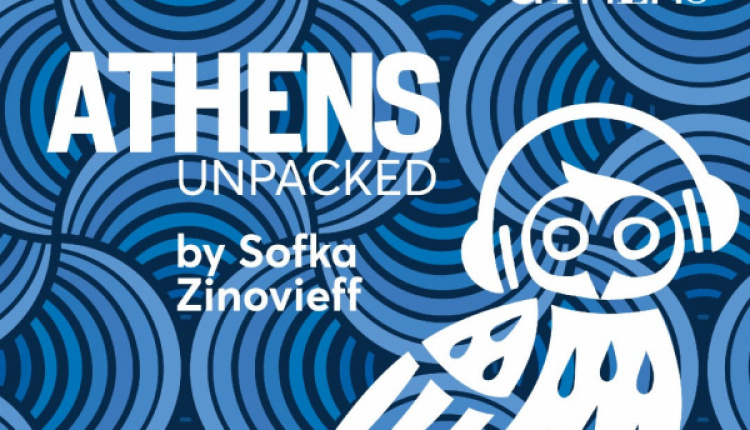 "All cities are complex but Athens has an especially tangled character—it's both spectacularly ancient and undeniably modern." Says author and former anthropologist Sofka Zinovieff.


As the city reopens to tourism again, this new 8-part podcast series from This Is Athens is designed to decode Greece's captivating capital, with the help of acclaimed author and
Athens-based anthropologist Sofka Zinovieff
. Athens Unpacked follows last year's popular podcast debut,
We'll Always Have Athens
, in which high-profile Athenophiles from Stephen Fry to Mary Katrantzou shared their tales of Athens.
Listeners are invited to embark on a fascinating journey of discovering Athens, as Zinovieff delves deep beneath the surface of the city (literally at times!), in a quest to uncover the true essence of her adopted home of Athens, in all its guises, layers and mysteries. The more you understand a place, the more deeply you engage with it and that's exactly the aim of the podcasts; for people to fall in love with Athens and all those things that make it such an enchanting place!


In each episode, Zinovieff enlists a rich pantheon of city experts and insiders - from celebrated singers and graffiti artists to high profile journalists and street food chefs - to dig beyond the Acropolis into themes that the guidebooks rarely cover.
This is not just another podcast series. It's more of a documentary where you'll visit a lesser-known aqueduct built by a Roman emperor, meet the capital's most exposed skeleton, encounter the alternative culture behind Rembetika (Greece's answer to the blues), climb a historic off-grid hill with a former archaeologist, experience a refugee neighborhood, browse a bustling farmer's market with a local foodie, and explore the omnipresent legacy of the ancient philosophers and politicians. What a brilliant way to connect with the heart and soul of Athens!
To embark on this audio odyssey of Athens, please visit: thisisathens.org
or
subscribe here
on Spotify, Apple Music, Pocket Casts, or wherever you listen to your podcasts.
1. Up Above & Down Below

- FIND THE EPISODE HERE


In this debut episode, you'll get acquainted with the geography of the Athenian basin and Zinovieff's theory of the 3 hills (Acropolis, Lycabettus & Tourkovounia), all while exploring the Syntagma Metro skeleton and Hadrian's aqueduct.
2. From Dreams To Demolition

- FIND THE EPISODE HERE


In this episode, follow Zinovieff as she explores the surprisingly diverse fabric of Athens and explains how the city went from being a European neoclassical capital in the 1830s to a concrete oasis brimming with apartment blocks in the 1950s.
---
Whether you've just arrived in town – or have been here for years – Athens always has new secrets to share!


This is Athens
is the official guide to this captivating city of ancient energies and booming urban culture. Compiled by a team of specialist local writers, This is Athens brings you an authentic and intimate portrait of a living Athens beyond the guidebooks – along with daily curated listings of all the best events and great weekend inspiration all-year round. From must-know neighbourhoods and emerging art hubs, to gourmet hotspots, cool shopping and the buzziest bars, This is Athens will help you to get the most out of living in Athens!