It's Not Christmas In Athens Until...
by XpatAthens
Friday, 18 December 2020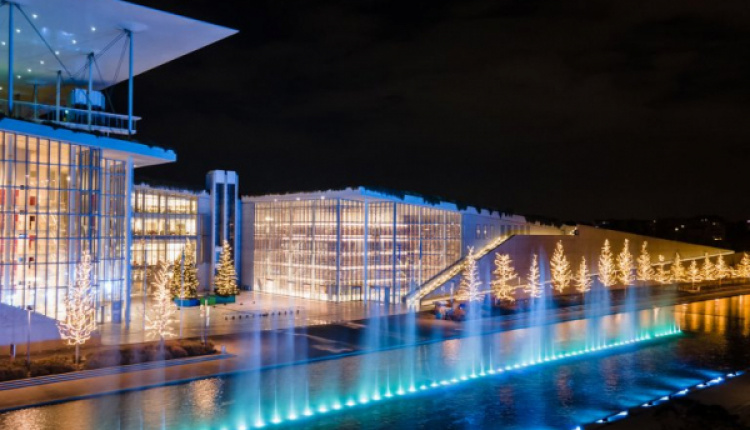 What does Christmas in Athens normally feel like? To spark some festive nostalgia this much altered Yuletide, this interview speaks with creative Athenians and shares their most cherished memories of the season.
It's hard to get into the spirit of Christmas this year when everything feels so different and so many of us will be facing the "season to be jolly" separated from our loved ones (not to mention all our usual festive fun). To keep alive the flame of a more normal Athens Christmas – and give us all hope of brighter Yuletides to come - This is Athens spoke with some colourful Athenians to share those seasonal milestones they are missing the most this challenging year – as well as all those beloved hangouts that they can't wait to get back to in easier Christmases to come.
Eleni Andreadis
Award-winning children's author and sustainability specialist
It's not Christmas in Athens until I've…


Gone for a cocktail at: Noel Bar. A cosy concept bar on Kolokotroni Street where it's Christmas all year. The music is jazzy and the permanent holiday decor is a tad over-the-top. Just how you want it for Christmas.


Had a festive meal at: GB Roof Garden, with a quick stop by the Christmas tree at the entrance to enjoy the festive piano music. For my family, it's the place to mark the beginning of the holidays. As the season comes to an end, I like to visit a Mikrolimano fish restaurant for a glimpse of the winter sea.


Shopped for gifts at: Living Green in Kifissia. This little gem stocks very original eco gifts. Christmas can be so wasteful and this is the place to go to buy a gift for someone to plant in their garden or a toy that's made from recycled or biodegradable materials.


Enjoyed a performance at: Onassis Stegi. They put on such original and innovative work - you're guaranteed to leave with lots to think and talk about over the holidays.


Soaked up the atmosphere of: Stunning Stavros Niarchos Park, where there's always something wondrous happening. 


Gone for a walk around: The centre of Athens -starting from Syntagma Square to Monastiraki - to admire the lights and music. There's nothing more "Christmas" than a late afternoon walk in the cold December air, with a Christmas Stars tea from Tea Route in my hands.


Listened to: Athens Big Band (a popular swing band) in an open-air Christmas event in downtown Athens. You can't beat the joy of stumbling across fantastic live music as you're walking down the street.


Akis Petretzikis
Celebrity Chef


It's not Christmas in Athens until I've ...


Gone for a cocktail at: One of the groovy bars in the neighbourhood of Psirri. It gets very Christmassy there and always has a fantastic vibe, especially in December.


Had a festive meal at: Every year, I bake melomakarona (traditional Greek Christmas biscuits) at my house made with pure ingredients and spices that I buy from the wonderful food shops of Evripidou Street.


Soaked up the atmosphere of: The decorated city centre of Athens, especially the classic Christmas feel of Voukourestiou Street in Kolonaki.


Gone for a walk around: My favourite festive walk has to be down Dionysiou Areopagitou to see the seasonal lights and along the ancient alleys of Plaka with the lit-up Parthenon glowing above, adding to the magic of it all.


Listened to: The Christmas carols that resound from the children of Athens in every neighbourhood of the city as they do the rounds singing the kalanta (Greek Christmas jingles)


What I love most about Christmas: Baking Christmas cakes to give as presents and share with my friends in Athens.


Chrissianna Andriopoulou
Style blogger, Shoprano


It's not Christmas in Athens until I've…


Gone for a cocktail at: Athénée Athens (formerly Zonars). Since it opened right in the centre of town in the 1930s, this elegant icon has hosted everyone from Melina Mercouri and Sophia Loren to Anthony Quinn and can always be counted on when you're in the mood for some serious retro glamour.


Had a festive meal at: Brunch or lunch at Brunello restaurant in Kolonaki is another Christmas classic. It has a cool crowd, an amazing food and wine list and such a great atmosphere & music, especially over the party season.


Shopped for gifts at: Cartier and Hermès on Voukourestiou Street in Kolonaki. I love going to this stylish street and visiting all the high-end fashion boutiques and going a little "extra" on Christmas gifts! Only the best for my loved ones.


Enjoyed a performance or concert at: Pallas Theatre, just around the corner from Athénée. It's such a grand Athenian landmark and always has uplifting productions in the lead up to Christmas.


Soaked up the atmosphere of: Hotel Grande Bretagne at one of their famous high tea sittings in the Winter Garden City Lounge. You can't beat it for luxury festive ambiance and their tree is always the best dressed in town!


Listened to: Classical music on Christmas morning is the best way to start this special day.


What I love most about Christmas: Being with family and loved ones, opening our gifts and spending quality time together! Those moments are so precious and irreplaceable.


For more great experiences from Athenians about Christmas in Athens
visit: thisisathens.org
Photo by: Nikos Karanikolas
---
Whether you've just arrived in town – or have been here for years – Athens always has new secrets to share!
This is Athens
is the official guide to this captivating city of ancient energies and booming urban culture. Compiled by a team of specialist local writers, This is Athens brings you an authentic and intimate portrait of a living Athens beyond the guidebooks – along with daily curated listings of all the best events and great weekend inspiration all-year round. From must-know neighbourhoods and emerging art hubs, to gourmet hotspots, cool shopping and the buzziest bars, This is Athens will help you to get the most out of living in Athens!