Hiking Mount Ymittos In Athens
by XpatAthens
Thursday, 08 April 2021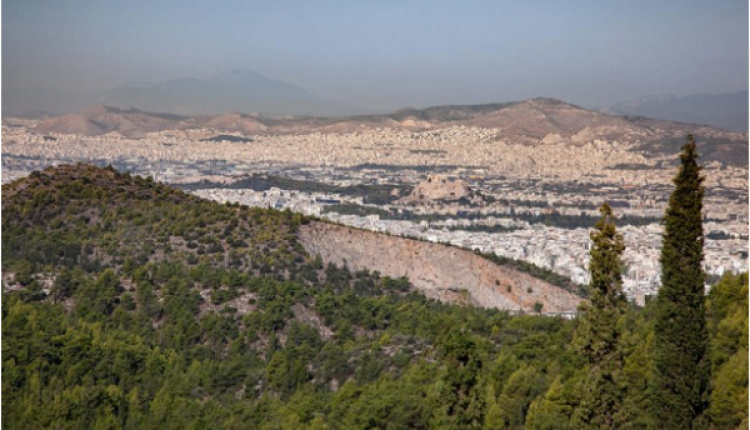 Sometimes the best-kept secrets are hidden in plain sight. Mount Ymittos forms the natural eastern boundary of Athens. Here, the dense city grid suddenly gives way to a tree-covered slope dotted with monasteries. This is the 'Aesthetic Forest of Kesariani,' a protected nature reserve that is a quick 15-20 minute drive or cab ride from central Athens. Just minutes from the urban hustle of Athens the walkable delights of Mount Ymittos offer a heady escape of nature, wildlife, historic monasteries and heavenly honey.
Upon arrival you'll quickly notice that the lack of development is part of the charm of this route. Despite its proximity to the city, you feel off grid and in discovery mode. Keeping the city as a very visible landmark, it is difficult to get lost here—but easy to feel like it. This hike will have you exploring rich olives groves, a 12th century monastery, the ruins of an old Christian basilica, a Botanical Walk, and a whole lot more!
For complete details and route information visit
: thisisathens.org
Photo by: Manos Chatzikonstantis
---
Whether you've just arrived in town – or have been here for years – Athens always has new secrets to share!
This is Athens
is the official guide to this captivating city of ancient energies and booming urban culture. Compiled by a team of specialist local writers, This is Athens brings you an authentic and intimate portrait of a living Athens beyond the guidebooks – along with daily curated listings of all the best events and great weekend inspiration all-year round. From must-know neighbourhoods and emerging art hubs, to gourmet hotspots, cool shopping and the buzziest bars, This is Athens will help you to get the most out of living in Athens!