Vravrona: An Excellent Choice For A Day Trip From Athens
by XpatAthens
Monday, 12 October 2020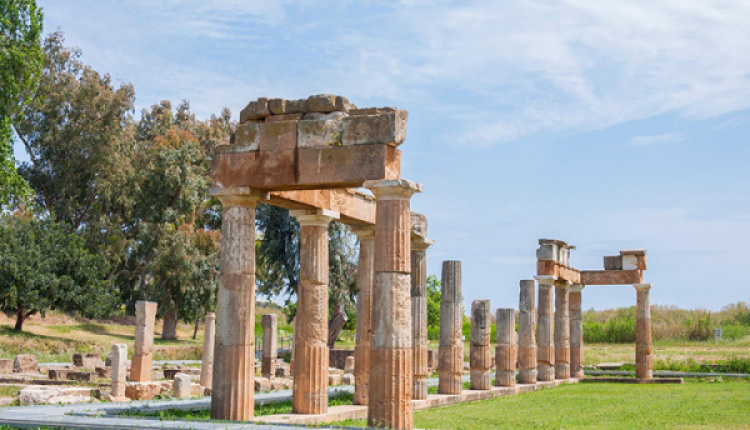 Are you looking for an interesting place to visit that is both outdoors and close to Athens? I suggest a visit to the archaeological site of Vravrona in southeast Attica. The landscape here is diverse with vineyards, pistachio trees, pine trees, olive orchards, and rocky shores.


As you near the ancient site, you'll encounter fruit and vegetable stands where the produce is grown just meters away from the stand. Near to the archaeological site of Vravrona there is a large parking area.

As you enter the grounds on foot, after about 50 meters you'll find the museum on your left. If you keep walking down the path for another 100-150 meters or so, you'll reach the archaeological grounds. The entrance fee is 6 euro for adults and free for children. This ticket includes a visit to both the museum and the archaeological site. Inside the museum, of course, you'll need to wear a mask and no more than a certain number of people are allowed in each of the museum's rooms, to maintain a safe distance from others.
The museum is small, clean, and well organized. There are five large rooms that feature archaeological finds not only from Vravrona but from surrounding areas as well, including Anavyssos and Perati. The exhibits cover the period from the Bronze Age until the Roman times. You'll see vases, idols, and statues of young boys and girls.
The sculptures from the sanctuary of Artemis are of the most important finds. A few tactile sculptures have also been created to provide access to the original artwork for visitors with low vision or blindness.
The ancient temple of Artemis was an important sacred site in ancient times. In the Doric-style temple, the goddess was worshipped and considered to be the protector of nature and women, as well as protector of childbirth. Women who had good deliveries would offer clothes and other personal items to the goddess Artemis.
If you take a walk through the prehistoric acropolis above the temple of Artemis, you will get a panoramic view of the Erasinos valley and the surrounding area.
You can also walk from the Vravrona Museum to the mavros vrachos [μαύρος βράχος] or 'black rock,' a low mountain beside the Erasinos River estuary. From here there is a great view of the wetlands and the southern Euboean Gulf. In the spring, there are beautiful wildflowers everywhere. You can even take a pony ride to explore the area.

The wetland and surrounding area of Vravrona also fall under the Natura 2000 Network. Click here to read about the protection and promotion of the Vravrona Wetland.
---

When To Go
In the Winter: From November 1st to March 31st 8:30 - 15:30 every day. EXCEPT Tuesdays.
In the Summer: From June 15th to October 31st 9:00 - 16:00 every day. EXCEPT Tuesdays.

Remember: Last entry is 20 minutes before closing time.
Click here to see if these times have been changed before visiting.
On the following days, admission is free to the museum and archaeological site:
March 6th (in memory of Melina Mercouri)
April 18th (International Day For Monuments and Sites)
May 18th (International Museum Day)
The last weekend of September (European Heritage Days)
October 28th (Greek National Holiday)
Every first Sunday from November 1st to March 31st
For more information, please call +30 22990 27020 or click
here
.

Written by Eleni Maria Georgiou.
---
About Eleni Maria Georgiou
Eleni Maria Georgiou is an independent writer and publishing professional devoted to creating books that are creative, original, and modern.
Passionate about Athens and all the city has to offer, for four exciting years, I co-managed XpatAthens. This experience inspired me to write my first book, Eleni's GREEK PHRASE BOOK: A Beginner's Guide to Greek Culture and the Greek Language in 2018, sparking the birth of Lenacke Press. I continue to write, think about, and publish creative and original books, adding to the Lenacke Press collection.
In addition, since 2004, I have been running fixyourenglish.com, a business that provides Editing, Proofreading, and Translation services.
I currently live in Athens, Greece with my husband and two kids. I am fluent in both English and Greek and interested in learning more languages. I like organizing and attending community group events, reading, listening to podcasts and audiobooks, writing, lifting weights, and going hiking.