One Of Athens' Most Enchanting Temples
by XpatAthens
Tuesday, 17 February 2015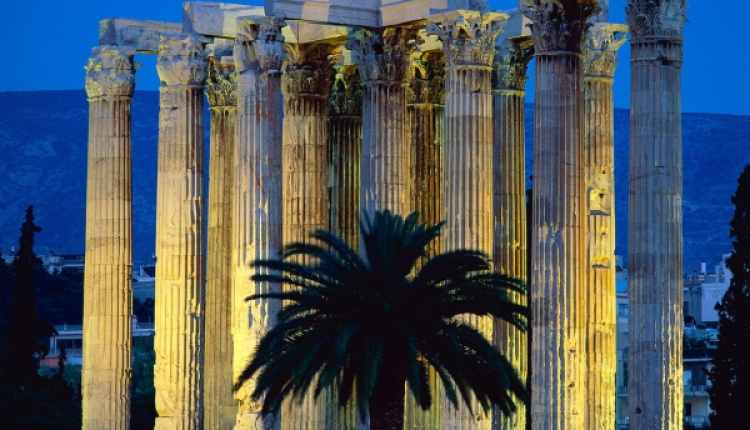 If you have yet to explore the grounds of this incredible temple, this should be a definite stop during your next afternoon stroll in the city center. The Temple of Olympian Zeus, also known as the Olympieion or Columns of the Olympian Zeus, is a colossal ruined temple that was dedicated to Zeus, king of the Olympian gods.
Construction began in the 6th century BC during the rule of the Athenian tyrants, who envisaged building the greatest temple in the ancient world, but it was not completed until the reign of the Roman Emperor Hadrian in the 2nd century AD some 638 years after the project had begun.
During the Roman periods it was renowned as the largest temple in Greece and housed one of the largest cult statues in the ancient world. Yet, the temple's glory was short-lived, as it fell into disuse after being pillaged in a barbarian invasion in the 3rd century AD. It was probably never repaired and was reduced to ruins thereafter. In the centuries after the fall of the Roman Empire, the temple was extensively quarried for building materials to supply building projects elsewhere in the city. Despite this, substantial remains remain visible today and it continues to be a major tourist attraction.
The temple is located about 500 m south-east of the Acropolis, and about 700 m south of Syntagma Square. Its foundations were laid on the site of an ancient outdoor sanctuary dedicated to Zeus. An earlier temple had stood there, constructed by the tyrant Pisistratus around 550 BC. The building was demolished after the death of Peisistratos and the construction of a colossal new Temple of Olympian Zeus was begun around 520 BC by his sons, Hippias and Hipparchos. Designed by the architects Antistates, Callaeschrus, Antimachides and Porinus, the Temple of Olympian Zeus was intended to be built of local limestone in the Doric style on a colossal platform measuring 41 m (134.5 feet) by 108 m (353.5 feet). It was to be flanked by a double colonnade of eight columns across the front and back and twenty-one on the flanks, surrounding the cella.

The work was abandoned when the tyranny was overthrown and Hippias was expelled in 510 BC. Only the platform and some elements of the columns had been completed by this point, and the temple remained in this state for 336 years. The temple was left unfinished during the years of Athenian democracy, apparently because the Greeks thought it hubristic to build on such a scale.

Fifteen columns remain standing today and a sixteenth column lies on the ground where it fell during a storm in 1852. Nothing remains of the cella or the great statue that it once housed.

The temple was excavated in 1889-1896 by Francis Penrose of the British School in Athens (who also played a leading role in the restoration of the Parthenon), in 1922 by the German archaeologist Gabriel Welter and in the 1960s by Greek archaeologists led by Ioannes Travlos. The temple, along with the surrounding ruins of other ancient structures, is a historical precinct administered by Ephorate of Antiquites of the Greek Interior Ministry.

Source: Wikipedia