Greek Maritime Golf Event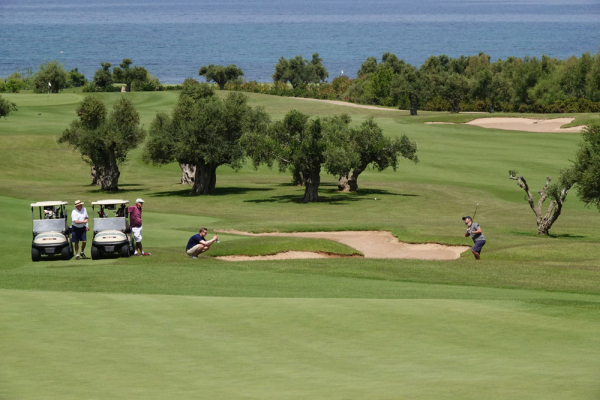 The Shipping Industry's Ultimate Golf Tournament
Greek Maritime Golf Event, the most successful golf tournament for the shipping community, returns for the 7th year booking its annual appointment with the Greek and world shipping industry, on September 3-5, 2021, at Costa Navarino , in Messinia.

The best golf event in Greece and Cyprus, as distinguished with a Gold award at the 2020 Sports Marketing Awards, is expected to bring together more than 80 leading shipping executives, forming 20 teams of four. Participants will compete at a team level, in a shotgun scramble that will take place on Saturday, September 4 th . Golfers will have the chance to play in the two signature 18-hole courses, The Dunes Course and The Bay Course, in an idyllic landscape full of centuries-old olive trees with stunning views of the Ionian Sea, the historic Bay of Navarino and the picturesque port of Pylos.

Participating teams will claim the significant prizes for the top three positions in the overall standings; while special awards will be given to individual players who will achieve the best scores in the "Longest Drive" and "Closest to the Pin" categories.

In the context of this year's Greek Maritime Golf Event, the tournament's organizer Mr. Thanos Karantzias highlighted: "After the highly successful and safe implementation of our event in 2020, in the Golf Course of Glyfada, with the realization of the strict health measures we had set against the pandemic, we begin our planning in September, at Costa Navarino with the Greek Maritime Golf Event".

The tournament will bring together representatives of the Greek and world shipping industry, who will have the opportunity to enjoy their favorite sport, golf, in a completely safe destination, with the necessary approvals of the Health Scientific Committee of the General Secretariat of Sports, taking into account the strict specifications set by the Hellenic Golf Federation.
Photo Credit: Charis Akriviadis