Tinos Challenge - Cyclades Trail Cup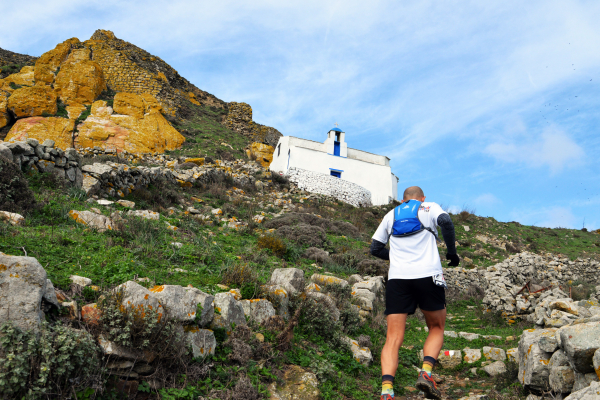 December, Cyclades, Tinos! The unique winter trail race on an island will be held in Tinos, hoping to attract alternative thinking athletes and visitors. The Tinos Challenge trail race is part of the Cyclades Trail Cup 2019 trail running series as the last stop of 5 races in 5 islands.


The Tinos Challenge trail race is part of the Cyclades Trail Cup 2019 running series and the last of 5 island races of the year. The previous races were held in Kea island, Folegandros, Andros and Kythnos. By following the rules of the Cyclades Trail Cup, all events must consist of Cultural events alongside the Sport events. In Tinos Challenge, sports will be combined with the local gastronomy and all participants will "taste" the alternative side of the island!


On Saturday 30 November and Sunday 1 December on the island of Tinos, Greece, the 4th trail running event: Tinos Challenge will take place. The trail race consists of three routes through traditional stone and marble trekking paths. The participants will have the chance of running through 15 traditional Cycladic villages of the 62 total of Tinos island. Between villages they can observe architectural marvels like pigeon houses, watermills, windmills, stone arch bridges and deserted villages. The "challenge" part of the race describes the difficulty of the race, as athletes will need to finish 2 routes in 2 days!


All participants will have a
30% discount
on their
ferry tickets
, their
accommodation
in hotels cooperating with the event and a discount in order to
rent a car or bike
while on Tinos island. Also if you are coming from abroad book a free seat in our buses leaving Athens for the port of
Rafina
and leaving the port of
Tinos
for the race start. With the full package of participation, the athlete will get a polyester T-shirt, a medal and many tasty gifts.
In order to pick up your athletes' bag with your bib number, t-shirt and sponsors gifts you will need to come at the reception desk in the main hall of the Monastery of the Holy Heart in Tinos island. The monastery is at the second-highest summit of Tinos island, 11km from the port.


For new registrations click here, until November 22nd .New registrations after that date will only be held at the reception desk, on Saturday 30 November from 10:00 to 16:00 at the Monastery of the Holy Heart.

Photo Credit: Antonis Solaris
EVENT INFO
When

:

30 Nov 2019 - 01 Dec 2019

Where

:

Tinos Island

Title:

Tinos Challenge - Cyclades Trail Cup

Email:

cycladestrailcup@gmail.com

Contact Number:

+30 694.15.08.016