3rd Leonidio Climbing Festival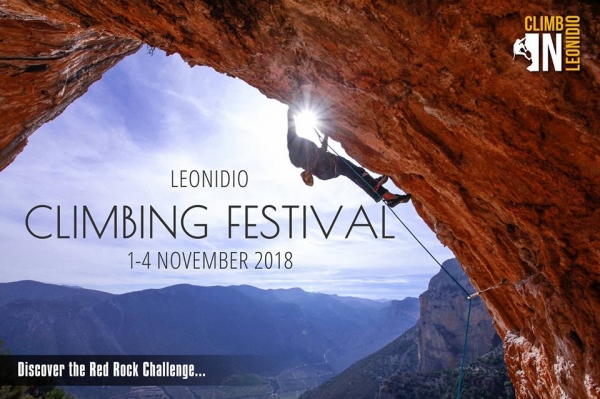 Climb In Leonidio team is pleased to invite you to the 3rd Leonidio Climbing Festival, which will take place on November 1-4, 2018, in Leonidio, Greece.

The event is organized by the Region of Peloponnese and the Municipality of South Kynouria, and sponsored by Petzl, whose mission is "to create innovative tools and services that allow men and women to progress, to position, and protect themselves in vertical environments, as well as to light their way in the dark."


Just a three-hour drive south of Athens, Leonidio has established itself as one of the best climbing destinations in Europe. Many of you have visited our beautiful village and experienced its stunning cliffs. Currently there are more than 1400 routes across a wide range of grades, and there is still potential for many more. The aim of this ambitious venture is to promote climbing by encouraging people from all over the world to spread the news regarding the beauty and endless climbing possibilities of the area!


The festival's special guest this year is Angela Eiter, one of the best female competition climbers of all time, and the first woman ever to climb 9b (5.15b) with her historic free ascent of La Planta de Shiva 9b in Spain in 2017. But she is also a force to be reckoned with in competitions, where she has won three Lead Climbing World Cups in a row, four World Championships, and dozens of other victories and distinctions. Leonidio is very close to Angy's heart, as she has shown time and time again, having climbed and bolted routes here in recent years.

Also joining the festival are Petzl team athletes Klemen Bečan and Said Belhaj, who will bring their distinct climbing styles, vast experience, and fascinating perspectives to the Red Rock of Leonidio. The whole community is ready to welcome these exceptional athletes with open arms!


Additionally, Vertical Life is bringing back events like the Open Climbing Challenge and everyone's favorite Zlagboard contest. Other fun activities to look forward to include free yoga and climbing courses, film screenings, presentations, live music, raffles with generous prizes, and a reprise of last year's awesome Saturday night party. Non-climbing events will take place at the Fabbrica of Culture, a gem of a venue in the center of town. Once again, all events will be photographed, filmed, and reported on by top professionals from the climbing media.
EVENT INFO
When

:

01 Nov 2018 - 04 Nov 2018

Where

:

Leonidio, Greece

Title:

3rd Leonidio Climbing Festival

Email:

info@climbinleonidio.com