Cyclades Trail Cup ~ Kimolos Trail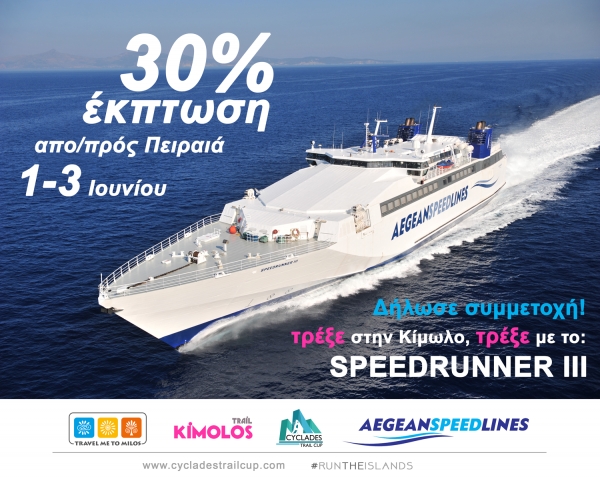 Cyclades Trail Cup is a series of trail races that aim to promote the Cycladic Islands as a destinationfor alternative, cultural and athletic tourism.


In its 3rd consecutive year in 2018, Cyclades Trail Cup presents a new set of events in alternative destinations with original routes and exciting cultural experiences! Giving priority to some of the "smaller" Cycladic islands, the 2018 Championship will include 6 races on 6 islands: Kimolos, Folegandros, Ios, Andros, Kythnos and Tinos.


Get ready for Kimolos Trail, Folegandros Sunset Trail, Ios Trail Race, Andros Trail Race, Kythnos Challenge andT inos Challenge!


The first race of the year will be in Kimolos island on 3 rd June. The 1st trail running race: Kimolos Trailwill have two routes, 21 and 9 kilometers long. The starting and finish line will be at the Chorio village and the 21km has a unique solidarity for runners choosing to participate.


For your ferry tickets, the organizers are cooperating with the "AEGEAN SPEED LINES" ferry company and offer all athletes and visitors a 30% discount on their tickets. In order to book them,after you register for the Kimolos Trail race (3rd June 2018), you will have to send an email at
info@travelmilos.com
with your First Name, Last Name, telephone number and "Kimolos Trail"designation to our trip partner "TRAVEL ME TO MILOS"
Every race and course offers score points for Cyclades Trail Cup, determined by the newCTC_PointSystem. Any athlete who finishes at least one race regardless of distance is eligible to receive points. The athlete that earns the highest amount of points by the end of the year will be the winner of Cyclades Trail Cup 2018.

The Kimolos Trail 21km will award you 83 points and the Kimolos Trail 9km will award you 33 points. Sports and Cinema will be joined the days of Kimolos Trail. Just like in every other Cyclades Trail Cup event, the Kimolos Trail must combine Sports with Cultural events. With the cooperation of the Kimolistes, local volunteer team, we will host a cinema night on a beach of Kimolos island!


The winners of the race will be the first 3 men and women of every route and the 1 st man and womanoriginating from Kimolos island.For registrations, visit the official website of Cyclades Trail Cup at www.cycladestrailcup.com until May the 27th.


For new registrations, after May 27th , come at the reception desk of the race on Saturday 2 June, between 10:00-18:00 at the Municipality of Kimolos.